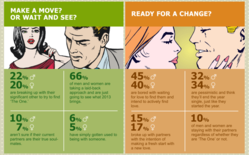 Would you be disappointed to end 2013 without having found your soul mate?
Palo Alto, CA (PRWEB) February 28, 2013
Only a few weeks ago, many Cupid members made New Year's resolutions to change their lives or habits. On Valentine's Day of this year, editors at Cupid plc [LSE AIM: CUP] set out to understand how people viewed their relationship at the start of the year, and learn about their plans for romance in 2013. We asked them five questions on the popular online dating website, Cupid.com:
1. Did you start the New Year in a relationship that you know is going nowhere?
2. Is this the year to stop messing around, dump your current partner and search for your soul mate?
3. If you started the year single, was this with the intention of finding your true love?
4. Do you see 2013 as the year to find the person you will be marrying in 2014?
5. Would you be disappointed to end 2013 without having found your soul mate?
Here are some of the highlights of the many responses we received. For the complete set of answers, view and download the complete infographic.
For many, 2013 is the year of action on the romance front
■ A fifth of the respondents say that started 2013 in a relationship that has no future.
■ A quarter of them dumped their partner in 2012 to find a better match.
For others, it's "wait and see"
■ Two-thirds of men and women are taking a laid-back approach to see what 2013 brings.
■ 45 percent of men and 40 percent of women are bored with waiting for love to find them and intend to actively find love.
■ 10 percent of women and 7 percent aren't sure if their current partners are their true soul mates. Meanwhile, others have simply gotten used to being with someone.
Married in 2013? Optimists are in the minority
■ 42 percent of men and 45 percent of women say even if they find their soul mate in 2013, they won't be marrying that person in 2014.
■ 38 percent of women and 33 percent of men say they don't expect to find their true love in 2013.
■ 19 percent of men and women say they are going to try to find a spouse this year.
■ 11 percent of women and men hope to end this year planning a spectacular wedding.
ABOUT CUPID PLC
Since its formation in 2005, Cupid has established itself as the global leader in online dating, with a base of more than 54 million members in 58 countries, and revenues of £53 million (2011). The company offers a wide variety of online dating services (traditional dating, casual dating, and niche dating) that appeal to dating users of diverse ages, cultures, and social interest groups. Cupid plc was listed on AIM in June 2010 (LSE AIM:CUP). Visit Cupid on the Web at http://www.cupidplc.com, and follow us on facebook.com/cupidcom and Twitter @cupidplc.