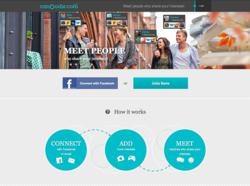 Social discovery and matching of people with shared interests is really powerful — it's like starting a conversation with a built-in ice breaker.
PALO ALTO, Calif. (PRWEB) February 19, 2013
To further broaden the accessibility and reach of its latest social discovery dating service, Canoodle.com, Cupid plc [LSE AIM: CUP] has just launched mobile apps for Canoodle for both Apple iOS and Android devices, along with a new Canoodle app on Facebook. The three new apps make it even easier for singles to find and connect with each other, with the added benefit of introducing location-based recommendations of local people whose interests match yours.
The Canoodle.com social dating service, which launched in beta format late last year, is also now officially released today. Canoodle aims to eliminate a lot of the guesswork that typically exists on traditional online dating sites by mining social media to understand what people like, and then connect them with others whose interests and tastes are similar. Canoodle then uses a subset of 27 million people from among Cupid's user base of 54 million to determine the best possible match. Since its launch, Canoodle has already attracted thousands of users, with thousands more joining every week, and is proving to be a great way for compatible singles to meet each other in a casual and friendly environment.
"When my sister told me about Canoodle, I honestly thought it would be just another one of those dating websites or an app for hookups, but she was so positive about it that I decided to give it a go. I downloaded the app on my iPhone right then and there, and believe it or not two days later I had already met three guys!" said Canoodle user Elaine Caddy. "It was just lovely chatting with all of them, it was very friendly and easy conversation, and while dating is not currently what I'm looking for, it sure is nice to know I can meet people who like the same things I do. When they recommend a new place to eat, for example, I am sure I will like it. And now I never have to beg my sister to come with me to see the French films I love — with Canoodle I've met a great group of people who also love them!"
"Canoodle is designed as a fully mobile experience, either through the mobile version of the website or through a smartphone app, which means it can deliver results to users that are not only relevant in terms of their interests and passions, but also based upon their location," said Bill Dobbie, CEO of Cupid. "Social discovery and matching of people with shared interests is really powerful — it's like starting a conversation with a built-in ice breaker. Couple this with Cupid's enormous database of singles who are actively looking to meet someone, and you have all the right ingredients for success."
Getting started with Canoodle is easy — no forms to fill out
Once a user is registered with Canoodle, the system builds a comprehensive interest profile using the information available through the user's Facebook profile (which Pages they like, and which celebrities, products, sports teams, and brands they follow), plus additional user-provided information. The Canoodle matching engine then gets to work on finding other users whose interests correlate.
Canoodle goes beyond simply connecting users and providing limited messaging between them. Canoodle offers chat rooms, a desktop messaging client, and a newsfeed related directly to all of the user's preferences and affinities. And where other sites are structured in such a way that users have to proactively sift through profile after profile and reach out to people they might be interested in, connecting with someone in Canoodle is as easy as chatting about a particular interest the user shares with someone else, whatever that interest might be.
Singles now have four ways to access Canoodle:

On the web at http://www.canoodle.com (mobile browsers can access http://m.canoodle.com).
From any Apple iPhone, iPod Touch or iPad device using the iOS app.
From any Android phone or tablet using the Android app.
On Facebook with the special Canoodle app on Facebook.
What people are saying about Canoodle
Lucy Harris, 41 years old: "After my divorce, I felt a bit uneasy about meeting new people. I really wanted to get out there and meet people, but at the same time was not looking for another relationship, not so soon anyways. That's how I stumbled upon Canoodle, and it has been a lot of fun and I have already met some nice people. Using it is easy, and I always get to meet people who are different but with whom I share some interests - which is a great way of getting a conversation started!"
Sean Kennedy, 28 years old: "I very recently moved to Los Angeles, and didn't know many people - just a few friends from university and my sister. And getting to meet new people in such a big city can be a very long process, with a lot of trial and error. One of my friends recommended Canoodle, and I love it! Within a few days of using it I had already met some cool people I got along with quite well, and I've even been on a few dates! Also, the fact that it is an app for my phone is great, as my job makes me be out and about all day long. Even better, Canoodle quickly helps me meet people based on my location, by helping me connect with like-minded persons who are nearby. That's awesome!"
Louise Docherty, 30 years old: "I lead a very busy life at work, and I wanted to spend my precious free time doing fun things instead of sitting with my computer and going over all these websites where you can meet someone new. So Canoodle turned out to be the best solution. It is very simple to use, gives quick results, and it works on my iPhone! And the people I have met have been all interesting persons with whom I share a lot. I am not looking for an exact duplicate of myself - I mean, someone who like exactly the same things I like, does the same things I do, and so on. Canoodle is very cool - it helps me meet people with whom I share enough to get going, but who are also different and exciting. I love this app!"
ABOUT CUPID PLC
Since its formation in 2005, Cupid has established itself as the global leader in online dating, with a base of more than 54 million members in 58 countries, and revenues of £53 million (2011). The company offers a wide variety of online dating services (traditional dating, casual dating, and niche dating) that appeal to dating users of diverse ages, cultures, and social interest groups. Cupid plc was listed on AIM in June 2010 (LSE AIM:CUP). Visit Cupid on the Web at http://www.cupidplc.com, and follow us on facebook.com/cupidcom and Twitter @cupidplc.