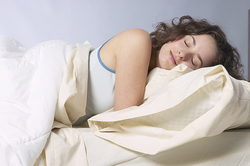 Cupron is excited to be working with Selfridges, the premier retail shopping outlet in the UK
London, UK and Greensboro, NC (PRWEB) October 30, 2008
Selfridges & Co. today announced an agreement with Cupron, Inc. to exclusively launch the Cupron Cosmetic Pillow Case, which uses Cupron's patented technology to help reduce the appearance of wrinkles, fine lines and crow's feet, improving the overall appearance of your skin.
The Cupron Cosmetic Pillow Case provides a gentle, non-invasive, and natural solution for dramatic restoration of the skin's youthful look and glowing appearance. While you sleep, copper ions woven into the fabric are activated by the moisture released from your body, beautifying the skin's appearance, making it look smoother, more radiant and younger, while nourishing stressed, aging skin. It is dermatologist tested and clinically proven to smooth and reduce the appearance of wrinkles, fine lines, crow's feet and other skin imperfections while you sleep.
In addition, the Cupron Cosmetic Pillow Case actually deodorizes your skin by naturally eliminating a broad range of odor-causing microbes, bacteria, and fungi. Enjoy and benefit from a deodorizing, non-allergenic sleep environment, which helps keep your bed smelling clean so you remain fresh all night long. The longer the pillow case is in contact with your skin, the greater the effect. Just sleep on it, and wake up to better looking skin.
What's more, unlike expensive creams and lotions that need constant replenishing or can expire, the Cupron Cosmetic Pillow Case will last for the lifetime of the product, even after repeated washings, without losing its effectiveness.
Selfridges' Director of Home and Leisure Kit Li-Perry says: "This is what everyone wants - to wake up looking more beautiful. The Cupron Cosmetic Pillow Case truly gives new meaning to the term 'Beauty Sleep.' Selfridges is proud to be the exclusive retail provider of the Cupron Cosmetic Pillow Case in the UK."
Cupron's clinical study has shown that the simple act of sleeping on a Cupron pillowcase for four weeks will reduce the appearance of wrinkles and crow's feet around the eyes, and will improve the skin's overall appearance. The dream of beauty while you sleep can now be realized, using the natural power of copper that is gentle and non-toxic, with no skin irritation.
"Cupron is excited to be working with Selfridges, the premier retail shopping outlet in the UK," said Jeff Gabbay, CEO of Cupron. "The Cupron Cosmetic Pillow Case is the result of 15 years of research, specifically designed to make it incredibly easy for customers to enjoy benefits previously found only in messy creams or costly injections. We look forward to bringing this incredible breakthrough technology to all of Selfridges customers in time for their holiday shopping."
Cupron's patented technology is scientifically proven to be non-sensitizing and non-irritating for both humans and animals. Cupron is a "green" company, using recycled material and environmentally-friendly, natural copper oxide.
The pillow case debuts at Selfridges on October 27, 2008.
About Cupron
Cupron, Inc. has patented the use of the natural form of copper, copper oxide, as the core ingredient of a platform technology which offers anti-microbial deodorant protection in fabrics and polymers, as well as cosmetic benefits such as reduction in the appearance of wrinkles and related skin conditions. Learn more at http://www.cupron.com. For further information on Cupron please email sales @ cupron.com.
About Selfridges

The business was founded by American entrepreneur Gordon Selfridge in 1909 and run by him until he retired in 1940 and took on the role of President. Gordon Selfridge died in 1947 and four years later Lewis's Investment Trust bought a controlling interest in Selfridges.
In 1965 Charles Clore's British Shoe Corporation (subsequently the Sears Group) bought a controlling interest in Lewis's Investment Trust and in doing so acquired Selfridges.
In 1998 the company was de-merged from the Sears Group and floated on the London Stock Exchange.
In 2003 Galen Weston purchased Selfridges. He and his wife Hilary are closely involved with the development and growth of the company.
In the year ended 31 January 2007, Selfridges' sales rose by 11 per cent to £597 million and grew profit by 33 per cent to £65 million.
Galen Weston is Chairman of Selfridges and, in January 2004, Allan Leighton was appointed Deputy Chairman.
Paul Kelly became Chief Executive of Selfridges in February 2004. Before that, Paul was Managing Director of Brown Thomas in Dublin for ten years. He has worked with the Weston family for over 20 years.
Galen Weston is Chairman of the premier luxury goods company which, as well as Selfridges, includes Holt Renfrew in Canada and Brown Thomas in Ireland.
Contact
For further images and information, please contact Selfridges Home, Lifestyle and Food PR manager Nancy Wainscoat on 020 7318 3638 or email nancy.wainscoat @ selfridges.co.uk
OR Selfridges Home and Food PR Assistant Paul Wells at Selfridges Press Office on 020 7318 3056 or email paul.wells @ selfridges.co.uk.
Stockist details:
Telephone - 0800 123 4000
http://www.selfridges.com
###