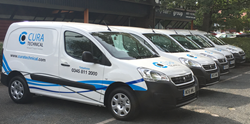 "As a company we continually strive to reduce our carbon footprint, so we need vehicles with low CO2 emissions. This purchase confirms Cura's commitment to attain the ISO 14001 environmental accreditation."
Basildon, Essex (PRWEB UK) 1 November 2016
Basildon-based technical support solutions company Cura Technical is celebrating further growth with a new fleet of vehicles. The company has taken delivery of seventeen new vehicles to enhance its existing fleet stock, and improve on its carbon footprint by reducing Co2 emissions and increasing fuel efficiency.
ALD handled the financing for the contract while approved Vauxhall & Peugeot dealers Robin Day in Bristol and York and Ward & Rowlatt of Wellingborough supplied the vehicles. As part of its deal, Cura will enjoy many upgraded extras as standard including satellite navigation, real time tracking and 'blue efficiency' technology.
Commenting on the investment, Jason Williams, managing director at Cura, said: "Our national fleet of engineers and sales personnel spend a great deal of time travelling from contract to contract so they need company cars that are reliable, fuel-efficient and client-facing. This substantial initial investment will pay dividends as we are forecasting to reduce our fuel costs by some 8% and our Fleet Co2 emissions by some 16%."
"As a company we continually strive to reduce our carbon footprint, so we need vehicles with low CO2 emissions. Load carrying capacity is also a major factor of importance as is cost and the new fleet meets all these requirements. This purchase confirms Cura's commitment to attain the ISO 14001 environmental accreditation."
ALD Account Manager Chris Taylor said: "Cura has made an educated choice on its fleet hire with the choice of vehicles and specification. It was a process that was carefully evaluated, making sure that the correct vehicles were chosen for the exact needs of the business. When evaluating their previous set of vehicles, we realised that we could reduce costs, improve the vehicle uptime, and also reduce CO2 emissions by just replacing them with vehicles that have the latest technology and engine efficiencies."
ENDS
About ALD
Working with businesses of all sizes, we are one of the UK's most established vehicle leasing and fleet management companies, with a history reaching back to 1958. Today we manage over 120,000 cars and light commercial vehicles for more than 30,000 customers through the UK. We're proud to be part of the ALD Automotive Group, Europe's second largest vehicle leasing company, operating over 1 million vehicles in 40 countries.
We have many award winning products. From providing complex outsourced arrangements to multi-supply schemes; from employee car ownership to salary sacrifice; we have the skill set, experience and support services to help global organisations, government bodies, SME's and individual customers.
By using our detailed financial modelling tools, we will match the right funding choice with your particular requirements. In an ever-changing marker, we know your fleet needs will evolve. Therefore, we will work closely with you throughout the partnership to ensure our solutions continue to keep working for you, no matter what challenges may arise.
From creating an effective fleet policy online to helping your employees on the road, you can rest assured we have everything covered to keep your drivers safe and mobile 24/7. Our extensive network of strategic partners providing specialist services such as breakdown assistance, managing accidents and short term hire, is testament to this.
ALD are proud of their history and forward thinking innovation. It has led to many top awards and commendations from industry leasing publications and organisations.
For further information, please contact us 0870 00 11181 or email ukinfo@aldautomotive.com
About Cura Technical
Cura Technical specialises in the provision of IT services throughout the UK and Ireland to corporate and home users. We also work with channel partners, system integrators, out-sources and facilities management providers, delivering a wide range of single source IT support solutions.
Cura Technical is a channel-based provider of support services with an unrivalled understanding of the requirements of resellers. We hold accreditations with all major manufacturers of IT, printing and EPOS systems and offer a fully equipped technical resource at competitive rates. We have a single-minded focus on meeting customer service level requirements and, being fully vendor independent with no competitive conflict, always providing the most effective and unbiased solutions.
24/7 support is provided to customers throughout the UK and Europe by our state-of-the-art contact centre staffed by specialists using extensive knowledge databases that enable more than 80% of all problems to be resolved during the initial call. This is supported by strategically located engineers, all of which are equipped with the latest mobile communications devices and security vetted to meet the requirements of locations such as HM Prisons and other Government facilities.
We are committed to delivering technical support solutions that add unrivalled value to customers as well as achieving the fastest fix times. ISO9001 accreditation also assures you of the best workmanship at all times.
Cura Technical provides a range of additional consultancy services from Total Cost of Ownership consultancy, commissioning, installation and user training through to warranty and post warranty support, consumables and disposals to meet the Waste Electrical and Electronic Equipment (WEEE) Directive.
For further information, contact: Jason Williams, Cura Technical Ltd, Tel: 0345 811 2000, Email: jason.williams(at)curatechnical(dot)com