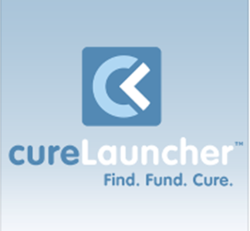 Changing the way the world fights disease.
Bloomfield Hills, MI (PRWEB) November 13, 2012
Steve Goldner saw a need that affects everyone. New medical treatments take too long and cost too much to develop. "Many new life-saving treatments never get to market because researchers can find the money needed for testing", said Goldner. "I've spent my life helping researchers get approval for life-saving medical treatments. Knowing that new treatments will never reach people who need them because of budget cuts is something I couldn't live with. That's why I invented cureLauncher".
CureLauncher.com is an online community where people can find and fund life-saving treatments in a way never before possible. It gives everyone a place to see treatments in development and connect with the dedicated scientists who are saving lives. CureLauncher.com connects people to world-class drug and medical device inventors. The featured project this month is a new metastatic breast cancer treatment being developed by NIH cancer researcher Dr. Lee Roy Morgan, CEO of DEKK-TEC, Inc. Each person who donates $25 or more to Dr. Morgan's research can write a personal and confidential email to receive Dr. Morgan's reply.
"We had to find a way to make sure cancer researchers can continue saving lives, said Vice President, David Fuehrer. "I joined Steve because I am a two-time testicular cancer survivor. Seeing the passion in him convinced me instantly that I needed to dedicate myself to helping others affected by cancer".
In 1972, Steve co-developed a non-abusable form of methadone to help people suffering with drug addiction. In 1973, he developed the lab screening method used to detect illegal drugs in urine. He continued to bring life-saving treatments to people who need them for the next 35 years. Steve Goldner also founded Regulatory Affairs Associates, a leading FDA consulting firm that helps companies get regulatory approval for their inventions in the U.S. and around the world. He has helped bring hundreds of medical inventions to market.
"CureLauncher.com gives everyone a place to take action" said Steve. "We can help leading researchers develop life-saving treatments for people suffering with disease. We are honored to support Dr. Morgan's breast cancer research and encourage everyone to visit cureLauncher.com to see this new treatment and how we're changing the way the world fights disease".
About CureLauncher
CureLauncher helps fund NIH-caliber drug and medical device research. It is an online community where people can find and fund medical research in a way never before possible. Advocates of the research interact with each other and leading medical professionals to generate support. CureLauncher puts funding back into drug and medical device research.