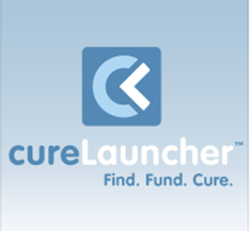 LIVESTRONG inspired me to take action in the fight against cancer.
Bloomfield Hills, MI (PRWEB) December 12, 2012
The LIVESTRONG BLOG says the newly launched website takes direct action by providing information on emerging treatments, access to the researchers involved, and actual enrollment to over 500 breast cancer medical research trials. It also gives anyone a direct chance to get involved in funding this research through use of the "crowdfunding" model that has taken the startup world by storm.
Naveen writes "as some involved in the fight against cancer know all too well, one of the most complicated crossroads in the journey is the clinical trials process". At the recent MAGI Clinical Research Conference in San Diego, it was reported that of the 50,000 clinical trials that took place in the U.S. in 2009, 80 percent were delayed by at least a month due to low enrollment".
Stephen Goldner, cureLauncher's Founder and President, was a featured speaker at the Clinical Research conference. "Providing easy access for patients to connect with clinical trials is critical", said Goldner.
Only cureLauncher translates the complex, medical terminology into easy to understand English. It provides the entry questions to determine if a clinical trial is appropriate for anyone's specific condition. People can submit a Request Form to participate in the trial or call CureLauncher directly to see if they qualify. CureLauncher is free to all users and a concierge person is available to answer any questions.
CureLauncher is also supporting a new breast cancer treatment from esteemed cancer researcher Dr. Lee Roy Morgan. People can find information about this experimental treatment at cureLauncher and make a donation to advance the treatment. Ninety one percent of the donations go directly to advancing the new drug. Each person who donates $25 or more can email Dr. Morgan directly and receive his confidential reply.
CureLauncher's Vice President, David Fuehrer, spoke with Naveen. "My connection to the LIVESTRONG Foundation is both professional and very personal. "At 25, I was a natural bodybuilding champion in New York. Four months later, I was diagnosed with testicular cancer", said David.
"Lance Armstrong's book helped me cope with my transition from competitive athlete to cancer patient. Five years later, I was diagnosed with testicular cancer a second time. Throughout the past 10 years, the LIVESTRONG Foundation has helped me accept myself and take action. That inspiration is a big part of why I work with cureLauncher to fund new cancer treatments to save lives".
To learn more about breast cancer clinical trials or make a donation to the new breast cancer treatment, visit http://www.curelauncher.com
About CureLauncher
CureLauncher is an online platform that advances new cancer treatments. It connects patients to cures and cancer researchers to funding. CureLauncher brings leading cancer researchers and donors together to fund new cures.