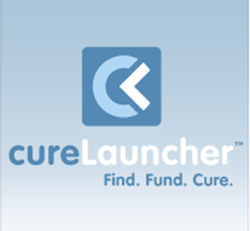 Changing the way the world fights disease.
Birmingham, MI (PRWEB) November 08, 2012
"CureLauncher.com gives everyone a better understanding of new medical inventions as they are being developed", said Vice President, David Fuehrer. "Unfortunately, many people don't know about life-saving treatments that are being developed. CureLauncher gives everyone a place to see the work our country's leading researchers are doing. Anyone can donate directly to the research to ensure that drugs and medical devices reach people who need them".
Susan Lewis, Ph.D., JD and Jerome Lang, MD have joined CureLauncher as scientific and medical evaluators of new cancer research. They provide expert video reviews to help visitors understand the medical research and how it will help save lives.
"People are more sophisticated than ever and want to know how donated money will be used to fight cancer", said CureLauncher Founder and President, Stephen Goldner. "That is why we have independent medical reviewers providing evaluations of new cancer treatments. CureLauncher.com also provides anyone with the opportunity to communicate with medical researchers in a confidential setting. The Clinical Trials section of the website provides 500 breast cancer trials that are looking for patients who need free medical treatment that can save their life."
Only CureLauncher translates the complex, medical terminology into easy to understand English. A CureLauncher concierge person is available to answer any questions. The information is free to all users and instantly helps people connect with clinical trials. CureLauncher addresses the urgent need to help people find clinical trial help.
Approximately 50,000 clinical trials take place each year in the U.S. and 80% of them are delayed by a month because they can't find patients to enroll. This means that treatments take longer to get approved and cost more when they do. Curelauncher reduces these costly delays in getting new treatments to market.
CureLauncher.com connects people to world-class drug and medical device inventors. The featured project this month is a new metastatic breast cancer treatment being developed by NIH cancer researcher Dr. Lee Roy Morgan, CEO of DEKK-TEC, Inc. Each person who donates $25 or more to Dr. Morgan's research can write a personal and confidential email to receive Dr. Morgan's reply.
To learn more, visit http://www.curelauncher.com
About CureLauncher
CureLauncher helps fund NIH-caliber drug and medical device research. It is an online community where people can find and fund medical research in a way never before possible. Advocates of the research interact with each other and leading medical professionals to generate support. CureLauncher puts funding back into drug and medical device research.