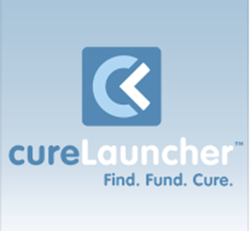 Changing the way the world fights disease.
Bloomfield Hills, MI (PRWEB) November 27, 2012
The fiscal cliff is calling for funding to the National Institutes of Health to be cut by $2.5 billion and to eliminate 300 research grants through the National Cancer Institute, said the Biotechnology Industry Organization.
If you know someone with cancer, ask yourself if cutting funds for new treatments will help keep that person alive.
Many lifesaving cancer treatments will never reach people who need them because researchers won't obtain the funding needed. "Now, cureLauncher.com gives everyone a place to see new cancer treatments in development and connect with the dedicated scientists who are saving lives" said Founder and President Stephen Goldner, JD, RAC.
CureLauncher.com is supporting a new metastatic breast cancer treatment from esteemed cancer researcher Dr. Lee Roy Morgan. Each person who contributes $25 or more to Dr. Morgan's research can write a personal and confidential email and receive Dr. Morgan's reply.
The 5-year survival rate for all cancers is 67%. This is a 35% increase in survival since 1977. This improvement reflects both progress in diagnosing cancers at an earlier stage and improvements in treatment, according to the American Cancer Society.
"We can't allow this progress to stop and let even more people die from cancer because of budget cuts" said cureLauncher Vice President David Fuehrer. "I am a two-time testicular cancer survivor and am alive today because of advances in cancer treatment."
If 5,000 people donate $25 today, it will fund this new drug for breast cancer, even if the cancer spreads to other parts of the body. The money will make a huge difference in helping women affected by breast cancer.
Visit http://www.curelauncher.com to learn more and support this new breast cancer treatment.
Find. Fund. Cure.
About CureLauncher
CureLauncher is the only crowdfunding platform dedicated to funding NIH-caliber drug and medical device research. It is an online community where people can find and fund medical research in a way never before possible. Advocates of the research interact with each other and leading medical professionals to generate support. CureLauncher puts funding back into drug and medical device research.