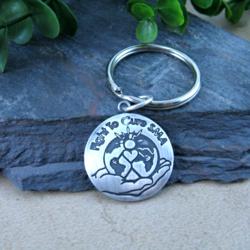 The Zahns are a very loving, deserving family whose whole world is built around their little girl. These donations are the least I can do to help.
Elkhart Lake, Wisconsin (PRWEB) April 23, 2013
Metal clay artist Kim Jakum, founder of Metalmorphis Jewelry (http://www.metalmorphisjewelry.com) is joining the fight against Spinal Muscular Atrophy (SMA) by donating a portion of proceeds from the sale of her Lucy Zahn necklace and key chain to support research for an SMA cure and help a little girl who is battling the disease. The pieces are part of Jakum's handcrafted keepsake jewelry collection.
The necklace and keychain were inspired by and named after Lucy Zahn, a 4-year old girl who has Spinal Muscular Atrophy Type 1. Each time a keychain or necklace is sold, a portion of the sales will go to SMA research. In addition, $15 from each sale will go directly to the Zahn family to help them better care for Lucy by building an addition to their home.
SMA is a motor neuron disease. It prevents Lucy from supporting her own head, eating by mouth, sitting, standing or walking. Machines help her to cough and breathe. Despite the physical challenges, Lucy's joy for life shines through. Her mind is not affected by the disease and she is a very bright girl who loves bath time and reading stories, as well as Sesame Street, singing songs and meeting new people.
Currently, Lucy's bedroom is on the second floor of her family's home, and her size is making it hard for her to be carried safely up and down the stairs. Since there are some days when the possibility of choking on her own saliva makes it impossible to pick her up safely for more than a few seconds, having bedrooms and an accessible bathroom on the first floor would change Lucy's life.
The Zahn family believes a cure will be found in Lucy's lifetime. They say the gene therapy sector is very close to producing a viable treatment for children with SMA. In addition to the money raised through Metalmorphis, the Zahns are also accepting donations through their GoFundMe site.
The Lucy Zahn necklaces and key chains are made-to-order by Jakum and are available on the Metalmorphis Jewelry website. "I personally know Lucy and her family," Jakum explains. "They are a very loving, deserving family whose whole world is built around their little girl. These donations are the least I can do to help."
Jakum is known for her mastery of the difficult medium of Precious Metal Clay and for her keepsake and memorial jewelry designs that incorporate the drawings, writings and signatures of loved ones.
Jakum's Silver and Almandine Garnet Talisman Necklace has been seen on the popular television show, "The Vampire Diaries." Her jewelry has been gifted to celebrities including Mila Kunis, Amy Poehler and Mariska Hargitay, and was included in the official gift bags for the 46th Annual CMA Awards. Jakum was recently the subject of a feature article in "Lakeshore Luxury Living Magazine" and her kid's signature and artwork pendants and other designs have been recognized by "Parent's Magazine," "CoolMomPIcks.com," "Metal Clay Today," "Metal Clay Artist" and "Art Jewelry." Kim is a proud member of by invitation only The Artisan Group.
To learn more about Metalmorphis, visit http://www.metalmorphisjewelry.com or http://www.metalmorphis.etsy.com and follow it on Facebook (MetalmorphisbyKimJakum) and Twitter (@metalmorphis_).
About Metalmorphis Jewelry
Metalmorphis (http://www.metalmorphisjewelry.com) was founded in 2010 by metal clay artist Kim Jakum of Elkhart Lake, Wisconsin. Jakum creates handcrafted keepsake jewelry that she customizes and personalizes for the wearer. Kim has been designing and creating jewelry for over 20 years and is PMC Certified. Her work has received numerous awards and has been featured in magazines like "Metal Clay Artist" and "Art Jewelry Magazine."