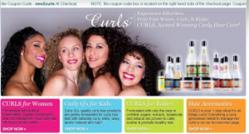 I cannot wait to rock my curly ponytail with the other products…they smell GREAT!
Los Angeles, California (PRWEB) November 25, 2012
Curls, a premium, ethnic hair care company, that provides hair and salon care products for women with curly hair, is sponsoring a sweepstakes giveaway with Sweepstakes Ninja. Curls has been featured in the press, 49th Annual Grammy Awards, Soul Train, and used by numerous celebrities with curly hair. Celebrity friends include Amerie, Ashanti, Nicole Murphy, and Halle Berry. Sweepstakes Ninja helps consumers engage with brands such as Curls through social media, video marketing, blogging, partner websites and forums, and more through their online sweepstakes giveaways.
The founder of CURLS, Mahisha Dellinger, created a solution for women with curly hair. Her passion began at an early age, when finding the right products for her curly hair type posed an interesting challenge. Mahisha collaborated with leading cosmetic experts to develop CURLS, which contains an exclusive blend of certified organic ingredients, natural oils and exotic extracts. Curls helps to restore the integrity of a womans hair, protects the hair from environmental stress, and replenishes the protective layer bound to the hair cuticle.
Sweepstakes Ninja offers consumers the chance to enter multiple sweepstakes through their innovative online sweepstakes draws (http://sweepstakesninja.com/sweepstakesdraw/). They are daily entry draws, that not only give consumers chances at winning amazing prizes, but also give companies daily branding exposure to consumers. Through the sweepstakes draws, contestants have a chance of winning one of several hair care product packages sponsored by Curls.
The sweepstakes promotion officially runs until December 1st, 2012. To increase their chances of winning, the entrant may share sweepstakes links with friends, family, and through social media. This is a win-win situation for both Curls and the entrant. Entrants increase their chances of winning award winning products, and more people learn about the Curls line of curly hair care products service. There have already been 10,000+ individuals introduced to the Curls product line through Sweepstakes Ninja
For more information about how Sweepstakes Ninja promotional marketing services deliver profits for companies, visit http://www.sweepstakesninja.com/site/company_sweepstakes/.
About SweepstakesNinja.com
SweepstakesNinja.com is the leading provider of fun and interactive sweepstakes. The company matches consumers with companies, in a fun and interactive manner. Consumers have the chance of winning amazing prizes. Companies benefit from daily exposure to their brands, word of mouth advertising, customer loyalty, and long term increases in profit. Visit http://www.sweepstakesninja.com/ for more details.