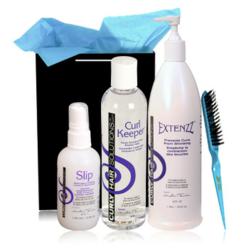 Toronto, ON (PRWEB) May 10, 2012
This May, Curly Hair Solutions™ has teamed up with sought-after textured blogger, Curly Nikki, for her 31 Days of Haute Hair.
Jonathan Torch, the creator and founder of Curly Hair Solutions™, has solved an age-old texture problem for kinky curls with an innovative curl styling kit designed specifically for Curly Nikki and her 31 Days of Haute Hair. The Natural Haute Hair Bundle consists of: EXTENZZ™ (1L), Curl Keeper™ (8oz), Slip™ Detangler (3oz) and a Root Brush.
About Curly Nikki's 31 Days of Haute Hair:
Each day, curlies can enter for a chance to win the Grand Prize draw with over $1300 of hair care products from sixteen curly hair sponsors. Curly Nikki is celebrating her growing community with 31 days of giveaways for the month of May! Curly Nikki encourages curlies to enter each day to increase their chances of winning. With every entry, curlies will not only be entered to win the Grand Prize, but also they'll receive tips on how to achieve haute summer hair!
On May 18th Curly Hair Solutions™ will be giving away a chance to win an exclusive Curly Hair Solutions™ Natural Haute Hair Bundle to Curly Nikki fans online at http://www.naturallycurly.com/curlynikki/haute-hair?utm_source=curlynikki.com&utm_medium=banner&utm_campaign=hautehair_may.
Product Description of the Curly Hair Solutions™ Natural Haute Hair Bundle:
EXTENZZ™ is the ultimate non-chemical curl styling hair relaxer product that prevents curls from shrinking. By using the correct combing and styling techniques, EXTENZZ™ allows users to manipulate their curls into looser, well-defined, frizz control without the look and feel of heavy oils. EXTENZZ™ retails for $58.00 for 1L/33.8oz.
Curl Keeper™ contains the highest quality ingredients, provides frizz control and curl definition in all weather conditions, including humidity. Curl Keeper™ is a water-based formula that can be used everyday without product build-up.
Slip™ Detangler is a silicone free detangling leave-in conditioner that instantly loosens hair knots, locks in hair colour and eliminates flyaway hair. The conditioning ingredients of Slip™ will leave hair soft, smooth and shiny without ever over-moisturizing the hair.
The Root Brush is an effective tool to redirect the way hair grows, allowing curly hairstyles to fall into place. Styling becomes easy, as the nylon bristles are flexible to prevent snags. Repetitive brushing from the root area upwards will immediately redirect the hair growth.
About Curly Hair Solutions™: Curly Hair Solutions™ curly hair products perform 100% of the time, on every curly head, in all weather conditions, without the use of silicones. Our ingredients are natural, biodegradable and are not tested on animals. Our products have been perfectly pH balanced to match our environment to our bodies resulting in healthier, shinier, and a more controllable result every time.