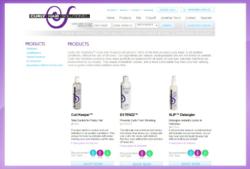 Toronto, ON (PRWEB) May 24, 2012
Curly Hair Solutions™ (CHS) officially launches a newly revamped website (http://www.frizzoff.com) designed to be user friendly for "curlies" shopping virtually. With the understanding that no two curls are alike, Curly Hair Solutions™ have transferred that ideology to their website. With the understanding that no two online shoppers are the same, now curly hair consumers can have a seamless and stress-free online shopping experience, with a click of a button.
Products, Accessories, Starter Kit Pages:
Shop by Product Categories, Shampoo, Conditioners or Styling Products, as well as customized product searches to see what exact Curly Hair Solutions™ products fit the consumers curl type. Take the QuickShop route and add multiple items to a Shopping Cart without leaving the page. Not ready to purchase but know what you want? Continue on the QuickShop route and add items to a specific WishList instead.
Shopping Cart:
The CHS Shopping Cart has been upgraded to allow the user to easily modify items in their cart. Get an estimated total on a purchase, by filling in a Promotion Code, Zip/Postal Code and/or Shipping Country in a "Detailed Pricing Preview" box before proceeding to checkout. Remember all orders over $100 get free shipping.
Wishlist:
The New WishList feature helps consumers remember the natural hair products they want to purchase, and buy later. Shoppers can access their WishList by signing into a registered CHS account and add items to the cart when the consumer is ready to place an order.
Mini Cart:
The Mini Cart lets curly hair consumers add and remove products directly to a Shopping Cart as well as being able to view all the items while the consumer continues to shop the website.
Curly Hair Solutions™ curly hair products perform 100% of the time, on every curly head, in all weather conditions, without the use of silicones. Our ingredients are natural, biodegradable and are not tested on animals. Our products have been perfectly pH balanced to match our environment to our bodies resulting in healthier, shinier, and a more controllable result every time.