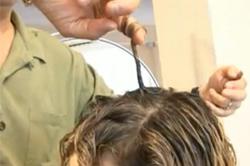 (PRWEB) September 14, 2011
Jonathan Torch, creator of Curly Hair Solutions™ presents the Skip Curl Technique designed to provide ringlet style definition to all curl types. This technique was created as a grouping system to help reshape and control the natural formation of the curls. Grouping sections of the hair, small or large and using Curl Keeper™, a water-based styling product, will help separate the curls and control the frizz and form the base for great fall styles.
Step-By-Step Skip Curl Technique:
1. Begin with wet, clean, detangled hair. Spray on Slip™ Detangler to remove all knots, tangles and loose hairs. It is important to detangle the hair before applying any styling product, to ensure that the product will work effectively. While your hair is wet you have control to manipulate the curl the way you want.
2. Take a section of hair, the amount depends on the type of curl you want to achieve. For a loose curl group larger sections, and for a tight curl group smaller sections of hair. To easily group sections use the end of the Root Brush to gather the hair. Apply a generous amount of Curl Keeper™ to each section and comb it through using the Root Brush to distribute evenly from roots to ends.
3. Starting at the root, twist the section around your finger.
4. Slide your finger down the hair shaft but stopping and holding at the end.
5. Bend it and SKIP the hair like you would with a skipping rope, in the same direction as the twist – Voila – the ringlet is formed!
The Skip Curl Technique is very versatile and can be used as a base to create a hairstyle for any occasion. Regardless of the occasion, event or location you're headed to, choose a hairstyle that you are comfortable with. No matter how busy your life gets, make sure to change your look from time to time. Be creative with your style. The Jonathan Torch Collection of Hairstyles for Fall/Winter captures the latest trends emphasizing curls, texture and lots of movement. Styles veer towards fluidity and looseness, and take on a classic, timeless look, often blending both modern and traditional techniques as inspiration. The Fall and Winter Collection is made up of five distinct looks including, weekend-playful, cultural, corporate professional, messy-sexy and elegant.Find out how to achieve each curly hairstyle at home with Curly Hair Solutions™.
About Curly Hair Solutions:
Curly Hair Solutions™ products perform 100% of the time, on every curly head, in all weather conditions, without the use of silicones. Our ingredients are natural, biodegradable and are not tested on animals. Our products have been perfectly pH balanced to match our environment to our bodies resulting in healthier, shinier, and a more controllable result every time.
Visit http://www.frizzoff.com for additional information.
###