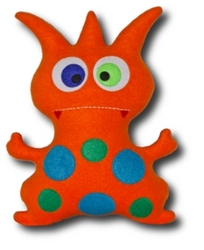 ...our products are original, innovative, and help parents and kids connect...
Cedar Park, TX (PRWEB) June 11, 2010
The Parents' Choice Foundation honored CurlyQ Cuties' Deluxe Custom Monsters yesterday with a 2010 Parents' Choice Recommended Toy Award.
"I'm thrilled that our Deluxe Custom Monsters have been recognized with this award." said Stephanie Estrin, CurlyQ Cuties' President & CEO. "It validates what we've believed all along -- that our products are original, innovative, and help parents and kids connect through the shared experience of designing their own toy together."
Deluxe Custom Monsters are made-to-order stuffed toys created by customers using the kid-friendly design tools on the CurlyQ Cuties website. Anyone can quickly and interactively create a colorful Monster design by selecting from a variety of vibrant colors, body shapes, and Monster features. Once ordered, the company transforms the design into a real plush toy and ships it directly to the recipient in less than 10 days. Deluxe Custom Monsters start at $30.
The Parents' Choice Awards program has established the benchmarks of achievement in children's media and toys. Placing a product in nomination for a Parents' Choice Award in no way guarantees receipt of commendation. Products are rigorously put through their paces. Among the considerations of the jurors and judges: the learning value, the play value, the appeal, and the cost. In addition, a product's originality weighs heavily in the judges' decisions. Fewer than 15% of the products submitted receive any level of commendation.
About Parents' Choice Foundation
Established in 1978, Parents' Choice is the nation's oldest nonprofit guide to quality children's media and toys. The Foundation's purpose is to search out and recommend fairly priced products that help kids grow – imaginatively, physically, morally, and mentally—and are fun, safe, and socially sound. Described by many as the industry equivalent of the Academy Awards, the Parents' Choice Award program honors the best in children's books, toys, music and storytelling, magazines, software, video games, television and websites.
For more information about Parents' Choice Foundation, please visit http://www.parents-choice.org.
About CurlyQ Cuties, LLC
CurlyQ Cuties was founded in 2008 by mom entrepreneur Stephanie Estrin on a quest to create high quality imaginative toys. The company creates one-of-a-kind stuffed toys from their customer's virtual designs. Every product is handmade-to-order in the United States and the company ships all orders in under 10 days. All products are backed by a 100% satisfaction guarantee. "You create the design... we do the rest."
For more information about CurlyQ Cuties, please visit http://www.CurlyQCuties.com.
# # #