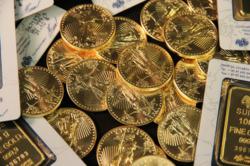 Atlanta, GA (PRWEB) February 27, 2013
In response to customer demand, Sterling Currency Group / DinarBanker has added new choices for exchanging Iraqi dinar. Customers have previously had the ability to exchange their dinar into US dollars or any of the other exotic currencies sold by Sterling, such as the Vietnamese dong, Indonesian rupiah, Japanese yen, Chinese yuan, Euro and many more. Now Sterling has added another exchange choice for customers: gold and silver.
Sterling offers U.S. minted American Eagle coins, known worldwide for their high quality. These 1 oz. bullion coins are congressionally authorized and produced from gold mines in the U.S. Swiss P.A.M.P gold ingots and bars and silver rounds, ingots and bars are also available for exchange at http://www.sterlingcurrencygroup.com.
All of Sterling Currency Group's gold and silver is in stock and ready for delivery. Sterling can also arrange safekeeping and secure transport for any precious metal exchange.
Sterling Currency Group / DinarBanker has the strongest exchange programs in the business for Iraqi dinar. In addition to precious metals, customers can exchange to virtually any other currency by visiting the website or calling 1-888-346-2771.
Sterling also has a great FREE Iraqi dinar gift for customers in March. For each full million dinars shipped during the month of March (March 1-29), Sterling will include a dinar gift of 15,000 IQD. The free gift consists of twenty 500 IQD notes and twenty 250 IQD notes, a total of 40 notes as a gift to customers whose orders ship from March 1-29.
Sterling's prices for buying Iraqi dinar continue to be the most competitive in the business, with prices as low as $980 per million even before Loyalty Credits are applied. And customers always receive excellent service with the fully-staffed customer support center, live chat, and ticket system.
About Sterling Currency Group / DinarBanker
Sterling Currency Group / DinarBanker has been in business continuously with an outstanding reputation since 2004. Sterling enjoys the highest BBB rating of A+ and is a registered Money Service Business with the United States Treasury Department. It is licensed either directly or through agent relationships in every state that requires currency exchangers to be licensed. The company has extensive capital resources and is committed to exchanging currencies for its customers at any time.
From service to pricing, from transparency to regulatory compliance, Sterling Currency Group / DinarBanker sets itself apart from its competitors in every way.
For more information on Sterling Currency Group, visit http://www.sterlingcurrencygroup.com or call 888-346-2771.