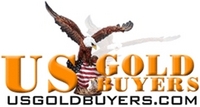 It is time to join the growing number of people who are taking advantage of skyrocketing gold prices in these tough economic conditions to turn old, broken, or unwanted jewelry into cash
New York, NY (PRWEB) September 29, 2009
Current gold prices are at an all-time high, and in an economy where many individuals and families are struggling to make ends meet, selling unwanted gold pieces such as jewelry or coins is an ideal way to get quick cash. Turning to reputable gold buying companies, such as U.S. Gold Buyers, Inc. can help sellers get a fair market price for their gold.
"It is time to join the growing number of people who are taking advantage of skyrocketing gold prices in these tough economic conditions to turn old, broken, or unwanted jewelry into cash," states Kevin Morris, Public Relations Director of U.S. Gold Buyers, Inc.
U.S. Gold Buyers, Inc. is accredited by the Better Business Bureau, licensed by the NYC Department of Consumer Affairs, and is backed and supported by ABC's "Eyewitness News" and "Nightline," as well as other trusted news outlets, such as CNN and the Wall Street Journal.
Consumers interested in trying to sell gold pieces or jewelry can browse online and find many companies in the gold buying business, willing to exchange cash for gold, but it is consumer-beware in the current market with many scams and unscrupulous practices running amok in the industry. U.S. Gold Buyers, Inc. is a professional and reputable precious metals company that can offer the best prices on gold jewelry, coins, and other pieces based on the latest trends in the gold market. There is no middleman; U.S. Gold Buyers buys the gold and refines it.
Anna Skvir, President of U.S. Gold Buyers, Inc., explains, "We are more than simply scrap gold buyers, we offer our clients the prospect of selling diamonds, coins, fine watches, and much more. The U.S. Gold Buyers service is extremely convenient for anyone who wishes to liquidate their jewelry or any precious metals for immediate cash. Consumers no longer have to shop around at local pawn shops and receive low offers. Instead, they can now go directly to one place to get the top dollar they truly deserve."
Skvir goes on to advise consumers to "avoid scams and unscrupulous business practices and deal directly with U.S. Gold Buyer, Inc. We are a legitimate gold buyer and refiner who takes pride in offering the highest level of quality service."
A recent historical gold prices chart is shown on the home page of the U.S. Gold Buyers website to show the consumer exactly where the current gold prices are, which offers a measure of security that the seller will be getting the fair market value for their gold.
U.S. Gold Buyers further facilitates a positive customer experience by offering free shipping of the merchandise, no charge on returned items, fast processing of payment--typically within 24 hours of receipt, and free bank wires as a payment option. They also have a $25 referral compensation program and free parking at the New York City location.
To learn more about the gold buying process or to see current gold prices, view the U.S. Gold Buyers, Inc. website.
About U.S. Gold Buyers:
U.S. Gold Buyers has been in business for 13 years, primarily buying gold from dealers and jewelry stores. With current market conditions, they have entered the online, consumer market as a reputable company providing a fair return and a positive customer experience to the individual seeking to generate income by selling gold--offering their unwanted gold jewelry, coins and other scrap gold pieces. They are accredited by the BBB and licensed by the NYC Department of Consumer Affairs. A portion of their profits is donated to the American Red Cross Disaster Relief Fund.
###