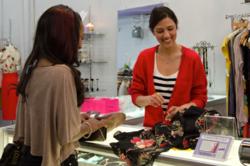 Our goal is to provide a fun, inviting environment that allows our customers and consignors to enjoy their experience and feel comfortable about the consignment process
Bethesda, MD (PRWEB) August 21, 2012
Current Boutique, Washington, D.C.'s local consignment shopping destination, will be opening a fourth location in Bethesda, MD this month.
Current Boutique offers customers handpicked consignment pieces that fit its criteria for great quality and style - unique items you can't find anywhere else. Current Boutique first opened its doors in Clarendon back in 2007, and has since opened two more stores in Old Town and Logan Circle. According to owner & president Carmen Lopez, each neighborhood has its own unique vibe, and the Bethesda location will be no different. 
"All our stores are located in vibrant shopping areas," Lopez said, "yet we have many clients that shop all our locations for the distinct inventory that each one brings."
The Bethesda store will be opening on Wisconsin Avenue, central to many shopping and eating destinations and a block from the Bethesda Metro. Customers will be able to shop a wide variety of designer wear, jeans, basics and one-of-a-kind pieces. The store will be opening just in time to start taking fall consignments.
At Current Boutique, the consigning process is simple and no appointment is necessary. The atmosphere is relaxed and welcoming. "We understand it can be intimidating, bringing your clothes in to determine if they would sell," Lopez said. "Our goal is to provide a fun, inviting environment that allows our customers and consignors to enjoy their experience and feel comfortable about the consignment process."
Current Boutique looks for natural fabrics - cotton, linen, silk, cashmere and wool - among others. Clothes are reviewed and selected on the spot and consigners receive half of the selling price. Any unsold items are donated to Martha's Table and the Salvation Army to benefit the local community.
Current Boutique stores are carefully organized by styles, sizes and categories. The contemporary selections and the ease of the consignment process are what sets Current Boutique apart from other resale and consignment stores and has grown it such a loyal clientele in the Washington, D.C. area.
The store will is located at 7220 Wisconsin Avenue, Bethesda, MD 20814. For more information about the new store, or any of the current locations, please visit Current Boutique's website at http://www.currentboutique.com or contact Victoria Michael at Victoria@vmpublicrelaions.com.