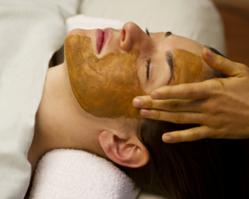 Training in ayurvedic facials (faciales ayurvedicos) is offered in Spanish by Escuela de Ayurveda de California
Bogota, Colombia (PRWEB) June 10, 2013
The internationally recognized institution will host its first training in Spanish in Bogota, Colombia in 2013. The ayurvedic program (medicina ayurvedica) will be held from October 8 - 10, 2013.
Ayurvedic facials (faciales ayurvedicos) restore the balance of the doshas in the skin of the face. During this 21 hour hands-on program, students will learn the beautiful and relaxing art of providing an Ayurvedic facial. Students will work in groups of two, giving and receiving facials. Student will learn a multi-part procedure that includes the application of oils, heat and massage to the face followed by the application of skin care therapy. This is a very popular spa therapy to support the return to one's natural beauty.
Ayurveda healing modality has been practiced for over 5,000 years. In Ayurvedic medicine (medicina Ayurveda), it is believed that health begins when an individual lives in harmony with their environment, having a profound understanding of their individual needs.
Ayurveda aims to heal an individual on all levels (physically, emotionally, and spiritually) by using a variety of healing treatments including medicinal herbs, Ayurvedic diet, color therapy, aromatherapy, sound, lifestyle recommendations, panchakarma, meditation and yoga.
Educational opportunities in Ayurveda are limited in Spanish. The Escuela de Ayurveda de California is proud to announce that the opening of its live internet program starting in the October, 2013. For more details, please call (530) 616 8332 or visit EscuelaAyurveda.com or learn about the program, please visit Curso de faciales ayurvedicos.