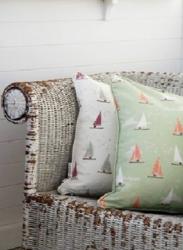 Quintessentially British, yet quirkily distinctive fabric.
(PRWEB UK) 31 May 2013
Bold and beautiful floral designs based on the traditional English garden and countryside meadows are part of the fabric collection from UK designer Emily Burningham now on sale from online home fabric company Curtains Made Simple.
The stunning new line from the portal, which delivers made-to-measure curtains and roman blinds as well as a range of home wares and accessories such as cushions, table covers and other soft textiles, is the latest to be added to the leading UK-based site. The company also sells fabrics by the metre for those keen to sew and manufacture their own soft furnishings.
Emily Burningham is well known in the UK and internationally for her collection of fabrics, wrapping paper, greetings cards and wash bags which, in addition to the English countryside, are also influenced by the Arts and Crafts Movement, Art Deco and Japanese design. This year the young designer, who honed her craft and design skills at Central St Martin's College of Art and Design, extended her range into wallpaper.
Curtains Made Simple said that they were delighted to have Emily Burningham as a contributor to their business. The striking colours and eye-catching designs she produces have made a real name for Emily since she opened her first shop in Hampstead North West London back in 2005. We're more than happy to be able to give her another outlet for showing the world her obvious talents.
For those keen on buying British, all Emily Burningham fabrics are manufactured in the UK which the company says are for both ethical reasons and consideration for the environment. It also allows them to ensure a high-quality finish for customers.
Other influences from the natural world in Emily's collection include wildlife – especially birds – and insects. A range specially designed with children in mind contains images of geese and sailboats while the colourful Little World fabric is already a particular favourite with parents – its primary colours and intricate designs proving a suitable material for large-scale projects such as curtains and matching bedding.
The popular Shanghai Trellis Japanese prints meanwhile are based on memories from the designer's childhood and come in a range of three colours – grey-green, graphite and raspberry.
Two bold striped designs are also part of the collection and feature in Boathouse Blue or Stone.
Water lilies, geese, poppies, berries, magnolia, daisies and nasturtiums are all popular sellers in the Emily Burningham collection with perhaps her most well-known design to date – Hawthorn and Sparrows in raspberries – taking pride of place.
There is a deliberate nostalgic feel to this collection which the designer admits is also very influenced by 1930s Britain.
About Curtains Made Simple:
Curtains Made Simple is a made to order soft furnishings company with easy to use online ordering for curtains, roman blinds, cut length fabric, cushions, pelmets, bedspreads / throws, duvets covers, bean bags, tablecloths, curtain valances and fabric samples.
Curtains Made Simple has over 10,000 fabrics to choose from including fabric from Cath Kidston, IKEA, Cabbages & Roses, Susie Watson, Kate Forman, Linens from Ada & Ina, Vanessa Arbuthnott, Clarke & Clarke, Prestigious Textiles, Scandinavian Fabric Co, Ashley Wilde, Kai, Ian Mankin and Volga Linen.
Our aim is to provide the quality and personalised service of the high street with the prices of the internet.
To find out more please visit us at http://www.curtainsmadesimple.co.uk, email: info(at)curtainsmadesimple(dot)co.uk or call us on: +44 (0) 845 8620743