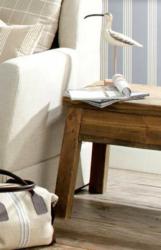 UK Made Woven Natural & Woven Fabrics
(PRWEB UK) 28 May 2013
Classic and simple quality-inspired cotton and linen fabrics from sixth generation family-run firm Ian Mankin are one of the newest collections now available from UK on-line fabric specialist Curtains Made Simple.
The Ian Mankin updated range includes the traditional tickings (for which the company are world-famous), stripes, plains and checks as well as a more feminine floral look and cross stripe design. Overall the colours are muted and timeless with a conservative slant and more of a masculine than feminine feel.
The fabrics and designs would suit most rooms in the home, from the kitchen to bedroom and hallway. Although the range is not what would normally be termed extensive, its popularity over the years has precluded the need for further designs. There is essentially a certain simple English elegance connected to Ian Mankin fabrics which is in evidence in the company's limited but highly-successful collections.
The Indigo Blue Ian Mankin range is in a striking dyed cotton while the strong Organic Collection has already gained Soil Association approval. But then all cotton and linen fabrics produced by the weaving dynasty at their Lancashire Cotton Mill in Burney are from natural fibres while around 90 per cent of the company's entire fabric output is woven at the Mill. The company, who recently celebrated 30 years in business, were also the first weaving mill ever to pick up the new Global Organic Textile Standard accreditation. This is awarded to weaving companies who use natural fibres in their weaving process and eliminate all chemicals.
The e-commerce site Curtains Made Simple offers clients the choice of a number of Ian Mankin fabris to order online for home use. They also offer a made to measure ordering service for curtains, Roman blinds and a range of home furnishings such as cushions, seat covers and table linens.
The Ian Mankin offering is just one of many new collections introduced to the portal in recent months. Others include Emily Burningham and a number of leading Scandinavian designers such as Almedahls and Klippan.
Curtains Made Simple said that they are really are delighted to have been offered the opportunity to stock the current range of Ian Mankin fabrics. As you would expect from this long generational family-run firm, the latest collection smacks of tradition, quality and value. It's a range that is frequently recognised; such is its popularity. The fabrics are always a successful seller and a particular favourite for country-type dwellings, elegant town houses and those who prefer a more classic and masculine look in their homes.
About Curtains Made Simple:
Curtains Made Simple is a made to order soft furnishings company with easy to use online ordering for curtains, roman blinds, cut length fabric, cushions, pelmets, bedspreads / throws, duvets covers, bean bags, tablecloths, curtain valances and fabric samples.
Curtains Made Simple has over 10,000 fabrics to choose from including fabric from Cath Kidston, IKEA, Cabbages & Roses, Susie Watson, Kate Forman, Linens from Ada & Ina, Vanessa Arbuthnott, Clarke & Clarke, Prestigious Textiles, Scandinavian Fabric Co, Ashley Wilde, Kai, Emily Burningham and Volga Linen.
Our aim is to provide the quality and personalised service of the high street with the prices of the internet.
To find out more please visit us at http://www.curtainsmadesimple.co.uk, email: info(at)curtainsmadesimple(dot)co.uk or call us on: +44 (0) 845 8620743