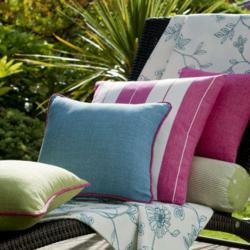 (PRWEB UK) 19 November 2012
Curtains Made Simple has dramatically increased its product range and is now offering a wide selection of cushions, bolsters, bean bags, bedspreads / throws, duvet covers and pillowcases, in addition to curtains and roman blinds.
Specialising in made-to-measure and custom-order products, the online retailer has previously focussed solely on curtains and blinds, as its name would suggest. Since being founded in 2009, Curtains Made Simple has always stayed true to its vision of making bespoke furnishings less hassle for consumers, but is now looking to provide a more diverse service in light of in response to customer demand offline, and a growing interest in a more design led approach to how their house looks.
Will Stanley, Founder and Director of Curtains Made Simple observed;
"People are now looking for more choice and more flexibility when designing their homes, as well as an affordable price. In offering other tailor-made products aside from curtains and blinds, customers can create a variety of coordinating soft furnishings to suit their needs – all within a few clicks."
With people having less time or having young children the website has proved a hit with people being able to do their fabric research and sample ordering during their evenings.
The product range has already been launched successfully, with many new and returning customers choosing to opt for coordinating cushions and throws in addition to drapes and blinds.
"The feedback we've had has been overwhelming. Customers have been over the moon with the range we now offer, as well as the quality of the products and the personalised service they receive. Although we are primarily an internet based business customers can pick up the telephone at anytime and get advice"
About Curtains Made Simple
Curtains Made Simple is a made to order soft furnishings company with easy to use online ordering for curtains, roman blinds, cut length fabric, cushions, pelmets, bedspreads / throws, duvets covers, bean bags, tablecloths, curtain valances and fabric samples.
Curtains Made Simple has over 7,000 fabrics to choose from including fabric from Cath Kidston, IKEA, Cabbages & Roses, Susie Watson, Kate Forman, Linens from Ada & Ina, Vanessa Arbuthnott, Clarke & Clarke and Prestigious Textiles.
Our aim is to provide the quality and personalised service of the high street with the prices of the internet.
To find out more please visit us at http://www.curtainsmadesimple.co.uk, email: info(at)curtainsmadesimple(dot)co(dot)uk or call us on: +44 (0) 845 8620743