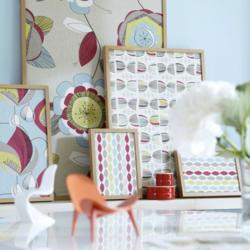 (PRWEB UK) 10 December 2012
The 3rd quarter's sales for Curtains Made Simple have been its best yet. There have been many reasons for this; a much expanded range of fabrics, increased range of products that can be ordered online and the increase in the price for competing imported products. Renewed confidence can be found elsewhere in the textile industry.
For years the textile and garment industry in the UK has been in inexorable decline and at a faster rate than the general decline of the UK industry in general. However this may be all about to change.
The China effect which has enabled us to buy products at rock bottom prices is starting to end. Rises in Chinese wages and the Chinese exchange rate is making products from China more expensive. In addition the increase in oil prices to over $100 per barrel has meant that the cost of moving a container from China to the UK has risen substantially. All this has made China not quite the bargain place to manufacture that it once was. Throw in the recent decline in Sterling's trade weighted index and things are starting to look decidedly rosy for UK manufacturers!
This has resulted in a new phenomena called reshoring (or onshoring). This is the movement of manufacturing back to the country in which the products are sold.
As well as the increased cost advantages of producing in the UK there are other advantages such as;

Shorter lead times from ordering to receiving the product
Lower stock levels required
Shorter production runs are now possible
Orders can be placed nearer to the sale date which reduces risk of stock obsolescence.
Better supplier relationships due to the geographical proximity of the manufacturer.
Better control over intellectual property.
It is early days yet but there are success stories out there such as Deborah Meaden's (of Dragon's Den fame) new venture with Somerset based woollen mill Fox Brothers. There are plenty of other British fabric brands that are also putting their faith in British manufacturing, such as niche brands Cabbages & Roses, Vanessa Arbuthnott and Kate Forman who's fabric is either printed here or woven and printed here in the UK. Other larger fabric distributors such as Prestigious Textiles have done their print on cotton work here for many years. Recognising that shorter lead time means less money tied up in stock, fewer stock outs, reduced risk of unsold fabric and increased customer responsiveness.
For textiles manufacturing here to succeed there needs to be people turning this fabric into finished goods and fortunately there is a lot going on. The much vaunted British creativity in the fashion scene has meant that there lots of small designers with small production run requirements. In addition to clothing there is also a vibrant soft furnishings industry that is responding to customers increased requirement for individuality in the décor of their homes.
Companies like Curtains Made Simple have taken the traditional high street curtain shop and created a virtual online shop where customers can order curtains, roman blinds, cushions, bedspreads and much more made from a choice over 7,000 fabrics. All manufactured in the UK.
The internet has enabled Curtains Made Simple to be much more competitive on price, making the previously unaffordable affordable to many more people. Thus creating a virtuous circle of lower price, more demand and more manufacturing in the UK.
The success stories are going to be in the niche and quality end of the market. This will be a story not based on cheap prices but on UK manufacturing's flexibility, innovation, use of technology and the ability to work with closely with customers.
No one is saying that the UK textile industry is going to return to its former glory days but it looks like the slide has stopped.
About Curtains Made Simple
Curtains Made Simple is a made to order soft furnishings company with easy to use online ordering for curtains, roman blinds, cut length fabric, cushions, pelmets, bedspreads / throws, duvets covers, bean bags, tablecloths, curtain valances and fabric samples.
Curtains Made Simple has over 7,000 fabrics to choose from including fabric from Cath Kidston, IKEA, Cabbages & Roses, Susie Watson, Kate Forman, Linens from Ada & Ina, Vanessa Arbuthnott, Clarke & Clarke and Prestigious Textiles.
Our aim is to provide the quality and personalised service of the high street with the prices of the internet.
To find out more please visit us at http://www.curtainsmadesimple.co.uk, email: info(at)curtainsmadesimple(dot)co(dot)uk or call us on: +44 (0) 845 8620743