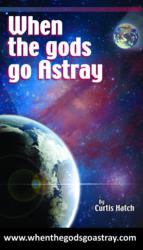 Now if you take that ruling and apply it to a world in which there are hundreds or thousands of drones, that obviously gives rise to some very significant concerns," John Villasenor
Westminster, SC (PRWEB) April 17, 2012
Merriam-Webster's online dictionary describes a drone simply as "an unmanned aircraft or ship guided by remote control." Any model plane flown by an amateur can be defined as a drone. Hobbyists today equip their models with cameras that take still shots as well as moving videos. That appears uncomplicated enough until one realizes that amateur built drones can presently carry and drop weapons. Curtis Hatch , author of "When the gods go Astray" has witnessed model craft ejecting pilots with parachutes as well as dropping belly-mounted model aircraft. Take this trend and put the capability into the hands of the military, civilian corporations, and yes, even terrorists, and Americans have a reason to be afraid—very afraid. An UPI article on February 8, 2012 said, "Thousands of tiny unmanned aircraft or drones flying into civilian airspace over the United States can pose a security threat as they may be difficult to monitor in the long run and some craft may fall into enemy hands, security analysts say." The article goes on to state, "The Federation Aviation Administration said up to 30,000 drones could be in airspace shared with airliners carrying passengers. Current lobbying for the drones insists there will be enough qualified experts to operate the drones safely and not endanger airborne human traffic but there are many questions unanswered about how the drone operators would be regulated."
The February 7, 2012 edition of The Washington Times reported, "Look! Up in the sky! Is it a bird? Is it a plane? It's … a drone, and it's watching you. That's what privacy advocates fear from a bill Congress passed this week to make it easier for the government to fly unmanned spy planes in U.S. airspace." Military drones used in Afghanistan have been weaponized and used to kill selected targets. The Times of India reported, "There was no immediate comment from US officials, but Washington has carried out deadly airstrikes in Yemen in the past. Last year, a US drone strike killed US-born militant cleric Anwar al-Awlaki and a second American, Samir Khan, who edited al-Qaida's Internet magazine." Fox News said, "Senior Al Qaeda leader Anwar al-Awlaki and another America-born militant were killed in Yemen early Friday morning by a CIA-led U.S. drone strike, marking the highest-profile takedown of terror leaders since the raid on Usama bin Laden's compound." A precedent has been set. Hatch questions why such a high profile and dangerous criminal was not tried and sentenced in abstention." Regardless of the rational, an American citizen was targeted and killed without due process. Who will be next?
March 12, 2012 NPR reported, "Unmanned aircraft systems, or drones, have long played a role in military operations. But imagine thousands of drones flying over U.S. skies — something we may see in just a few years. In February, President Obama signed an aviation bill requiring the Federal Aviation Administration to make plans to integrate drones into American airspace." The article goes on to say, "One question about drone usage obviously concerns privacy. In 1986, the Supreme Court ruled that police officers who used a small single-engine airplane to spot hidden marijuana plants in someone's backyard in California did not violate the Fourth Amendment because they were in 'public navigable airspace in a physically non-intrusive manner.' Now if you take that ruling and apply it to a world in which there are hundreds or thousands of drones, that obviously gives rise to some very significant concerns," says Villasenor (the articles writer).
12/31/2011 President signed the National Defense Authorization Act (NDAA) into law. The NDAA has some very disturbing components. It permits the U.S. government to target Americans and foreign nationals anywhere in the world. It provides for capture and indefinite detention based on suspicion of Americans without a warrant, or due process. Although some say the law will not be used like that, there is no protective language for Americans in the bill. If the current trends continue, tyranny is on the horizon. There is a strong possibility that "When the gods go Astray", by Curtis Hatch may prove to be incredibly prophetic. This can't happen in America one might say—think again.
The novel is available at Amazon in both paperback and Kindle. Golden Corner Enterprises, LLC of Westminster, South Carolina, is the publisher of the book. James R. Simpson, Jr., aka Randy, is President and CEO. The company can be reached at GoldCoEnt(at)aol(dot)com or the contact page at CurtisHatch.com.
To view a visual interpretation of Curtis Hatch's outlook on liberty please check out our visual interpretation.