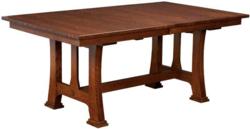 Brandenberry is trying to balance between traditional and modern styles to create something timeless.
Shipshewana, IN (PRWEB) July 20, 2012
Brandenberry Furniture, a custom, solid wood furniture enterprise in Shipshewana unveils the Custer Dining Collection. The Custer Dining Set is the result of collaboration between expert Amish artisans using traditional woodworking methods, select regional hardwoods and a shared design concept. The Custer Dining Table features gently curved legs, Quarter Sawn White Oak, a Mission edge and carved feet. Each of these design accents (the Mission edge, curved legs and carved feet) are mirrored in the Custer Four Door Hutch, becoming the signature style of the Custer Collection. Customization allows furniture lovers to select each detail of these pieces to their liking, including wood type, size, hardware, finish and inlay choices. Finishes include a great multitude of stain colors, burnishing, paint, dye, rub-thru and distressed effects.
In popular culture, the Amish have become synonymous with simplicity, tradition, good food and great furniture. Yet while the rich culture and heritage of the Amish (and Amish furniture) is actually much deeper and more complex than brief clichés, it is at least true that the Amish reputation for high-quality furniture is well-deserved.
Shipshewana, Indiana is home to an Amish community that draws tens of thousands of annual visitors to peruse their vast flea market, dine on traditional Amish dishes and deal-hunt among the various furniture retailers. Brandenberry Amish Furniture established itself in Shipshewana with their focus on original designs and custom furniture construction. Now, Brandenberry is introducing new dining room furniture designs such as the Custer Dining Collection that bring together the Midwest's best artisans. Sales representative Janine describes Brandenberry's furniture as "trying to balance between traditional and modern styles to create something timeless.
For those intrigued by Brandenberry Amish Furniture's collaborative furniture collections, you can browse their catalog on their website or visit their Northern Indiana store location to see first-hand their handcrafted furniture.
About Brandenberry Amish Furniture:
Brandenberry Furniture features furniture custom-crafted in the heartland the Amish way. Many of the furniture pieces are exclusively designed and built for Brandenberry clients or the Brandenberry showroom in Shipshewana. LeRoy and Ida Weaver established their first Amish furniture store in 1989 in Shipshewana, Indiana, before opening Brandenberry Furniture in 2008. They maintain two family-owned and operated businesses offering a full line of solid wood, Amish Furniture at affordable prices. In addition to providing a wide selection of home furniture, Brandenberry Furniture offers a range of services, including layaway and delivery options, custom furniture design consultation, price quotes and exclusive sales.