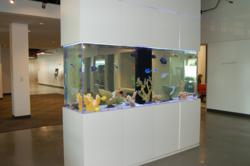 We provide the best customer service in the aquarium service industry
San Jose, CA (PRWEB) December 14, 2011
In 2011, AOL moved from their site in Mountain to Palo Alto, and asked San Jose SeaLife Aquarium Maintenance to help them upgrade their aquarium to match their new sleek office space.
The custom aquarium has always been a focal point for their employees. It gave the employees a back drop to go to, to get away from the daily grind of sitting in front of a computer. The aquarium also impresses AOL's vendors and contractors with its calming beauty.
The tropical fish, with AOL for approximately seven years, survived the transition from Mountain View to Palo Alto with no problems. They are fed twice daily, 20% water change weekly, and decorations are rotated bi-weekly to give the fish and the viewers a change of scenery. The mated pair of Tomato Clownfish breeds and lay eggs monthly. The aquarium is located in the center of the main lobby and viewable from all four sides.
SeaLife Aquarium Maintenance is committed to their clients, forming lasting relationships by providing exemplary service.
"We provide the best customer service in the aquarium service industry. Our goal is to create the aquarium you envision, at competitive pricing without jeopardizing water quality. We treat each aquarium with care, as it were our own," said Jeff Jacinto of SeaLife Aquarium Maintenance.
For more information about starting your own aquarium, call 408-234-7925 or visit their website at http://www.sealife-aquarium.com.
About SeaLife Aquarium Maintenance
SeaLife Aquarium Maintenance has been in business designing, installing and servicing aquariums since 1995 for both commercial and residential establishments. They travel the entire San Francisco and San Jose area to design aquariums that contains reef, salt-water fish only, or freshwater environments.
###