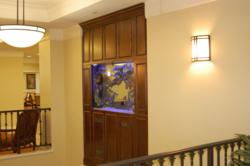 The exquisite beauty and the gracious movement of saltwater fish are magnificent to the eye
San Jose, CA (PRWEB) February 29, 2012
SeaLife Aquarium Maintenance, the most trusted San Francisco and San Jose custom aquarium company, is excited to announce that it created tranquil aquariums to serve as focal points at two ASL Monarch Living senior communities--Monarch Village in Daly City and Monarch Place in Oakland.
"The exquisite beauty and the gracious movement of saltwater fish are magnificent to the eye. The calming effect is satisfactory to the heart," Jeff Jacinto of SeaLife Aquarium Maintenance said.
The serene aquariums provide tenants of the assisted senior living facilities with enjoyment and relaxation. The aquarium at Monarch Village features a 100-gallon, in-wall saltwater aquarium, while Monarch Place features two, 100-gallon reef tanks. SeaLife regularly maintains both aquariums. The aquariums boast fish from all over the world and even include clownfish laying eggs.
Since 1995, San Francisco and San Jose aquarium services company, SeaLife Aquarium Maintenance has been providing design, installation, maintenance and overhaul services for all types of aquariums in commercial and residential establishments throughout the Bay Area. Centralized in San Jose, SeaLife creates custom aquarium designs.
SeaLife offers free estimates and consultations. The company gives current clients 24-hour emergency availability and a limited lifetime warranty on aquariums and cabinetry. It imports fish from all over the world, quarantined in medicated water for three to four weeks before being introduced into an aquarium.
For more information about any of SeaLife Aquarium Maintenance's products or services, call 408-234-7925 or view the aquarium maintenance company on the web at http://www.sealife-aquarium.com.
About SeaLife Aquarium Maintenance
SeaLife Aquarium Maintenance is fully insured and bonded, and offers competitive prices and personalized customer service. The custom aquarium company keeps a low fish and coral mortality rate with its efficient cleaning. The company offers two special programs for the benefit of clients: the Decorative Coral Exchange Program, which replaces coral decorations every time the aquarium is serviced and the Insurance for Fish/Coral Program, which insures fish and coral for one month.
###