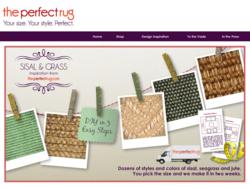 Traditionally, Custom Sisal Area Rugs and Seagrass Custom Area Rugs are carried by retailers in a few standard sizes. But, few of us have standard sized rooms
San Carlos, CA (PRWEB) September 23, 2011
Not only does The Perfect Rug, based in San Carlos, offer over 100 different types of grass rugs from Sisal to Seagrass, but they also offer more than the standard three sizes available at most retailers.
Customers are not limited in their choice of sizes and shapes at The Perfect Rug. They can choose their rug in any size or shape they need, and also pick the binding of their choice, available only online at http://www.theperfectrug.com.
"This has never been seen before," said Lisa Joss of The Perfect Rug. "And, more often than not, our prices are better with absolutely no compromise in quality."
Although http://www.theperfectrug.com is a new site, the parent company has been in the rug and carpet business for over 25 years. The public can now benefit from the long term relationships they have established with the makers and mills of these products, and the years of research they have conducted in their search for the best products available.
The popularity of Sisal and Seagrass custom area rugs is because they are hardwearing, made of natural materials, and go with virtually every decor from casual to more tailored and formal.
The Perfect Rug carries more than 150 Sisal and Seagrass rugs, and offer very competitive prices. Additionally, their shipping is fast and free. The average rug is delivered within two weeks of the order.
"Traditionally, Custom Sisal Area Rugs and Seagrass Custom Area Rugs are carried by retailers in a few standard sizes. But, few of us have standard sized rooms, said Lisa. "Now, you can choose exactly the size you need, from over 150 different styles. We feel pleased to be able to deliver this offering to our customers."
Visit The Perfect Rug online at: http://www.theperfectrug.com for more information, to get ideas, to create a rug and place an order, and to sign up for their newsletter. For the latest promos and sales, friend them on Facebook or follow on Twitter.
About The Perfect Rug
The Perfect Rug offers customers the ability to completely design and create their own custom area rugs online, of any size and shape to fit their needs through http://www.theperfectrug.com. Free and fast shipping is available on every order.
###