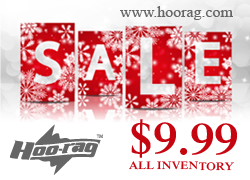 Jupiter, FL (PRWEB) November 26, 2012
Hoo-Rag has officially joined in on the Cyber Monday craze by announcing their brand new deal that will begin at 12 a.m. EST on Monday, November 26, 2012. The extremely popular seamless bandanas company will be offering its complete lineup of custom designs for $9.99 – let's not forget to mention that every order will receive a custom Hoo-Rag coozie for free!
Consumers looking for great deals on Cyber Monday can choose from Hoo-Rag's vast selection of fishing, snowsports and biker bandanas or choose from a variety of artistic designs aimed for those with an eye for fashion – the company even has dog bandanas!
"Cyber Monday is a huge event and we know that millions of consumers will be online searching for great deals and the Hoo-Rag is the perfect gift under ten bucks" says owner Doug Sapusek. "The Hoo makes the perfect stocking stuffer this holiday season!"
The Hoo-Rag Cyber Monday sale gives consumers the opportunity to purchase any custom bandana design that the company has available for $9.99 and every order will receive a free custom coozie. The sale will begin at 12 a.m. EST on Monday, November 26, 2012 and will run until 11:59 p.m. EST on Wednesday, November 28, 2012.
About Hoo-Rag
HooRag.com was officially launched in 2012 and offers their "better bandana" to men, women and children of all ages. Since its inception, HooRag has been creating custom bandanas for events all across the United States and Canada. The custom head wear company just recently launched its line of fishing bandanas, biker bandanas and snowsports bandanas, adding to their extensive collection of designs available.
For more information, please visit http://www.hoorag.com or call (888) 831-9344. You can also email info(at)hoorag(dot)com for additional information.
###