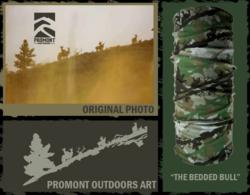 Jupiter, Florida (PRWEB) May 11, 2013
Hoo-Rag, a custom bandana company based out of Florida, has teamed up with Promont Outdoors and are announcing their partnership with a brand new camo rag. Promont, an American apparel company based out of Montana, sent Hoo-Rag a custom photo + camo design and "The Bedded Bull" Hoo was born.
Outdoor enthusiasts are in for a treat with the new Promont Outdoors Hoo-Rag as it features a photo of a group of elk out in the wild which was vectorized and strategically placed over a camo pattern – the end result is a design that is 100% unique as well as effective out in the field.
"We are thrilled to be collaborating with Promont Outdoors on our brand new Hoo-Rag, The Bedded Bull," says Hoo-Rag co-owner, Doug Sapusek. "Our fans as well as Promont's fans will be extremely happy with the new custom bandana – we hope the 100% unique design draws in new fans as well."
"The Bedded Bull" Hoo-Rag is just the beginning for the new partnership with Promont Outdoors – fans can expect more custom outdoor bandanas to be released in the future. For those interested, Hoo-Rag is now selling the brand new Hoo at http://www.hoorag.com.
For more information regarding Promont Outdoors and their line of outdoor apparel and accessories, please visit http://www.promontoutdoors.com.
About Hoo-Rag
HooRag.com was officially launched in 2012 and offers their "better bandana" to men, women and children of all ages. Hoo-Rag's partnership with Promont Outdoors is just one of many relationships the company has developed since its inception. Fans are now able to choose from several designs in their online store and event managers all across the United States and Canada contact the Florida-based company on a daily basis, asking for custom promotional bandanas.
For more information, please visit http://www.hoorag.com or call (888) 831-9344. You can also email info(at)hoorag(dot)com for additional information.
About Promont Outdoors
When it comes to fly fishing, hunting, skiing and all-around adventure, Promont Outdoors is dedicated to providing you with innovative accessories and lifestyle wear that makes a statement. Promont Outdoors is also dedicated to giving. No one ever went broke because they gave too much – a lesson that needs to be taken to heart in the business world today. Through giving we can make a difference in the lives of PEOPLE.
For more information, please visit http://www.promontoutdoors.com or contact them via email at info[at]promontoutdoors[dot]com.
###