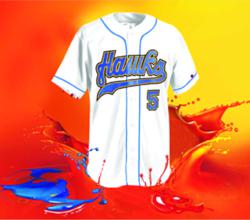 Garb Athletics' uniform builder is so easy to use it practically runs itself. You do not need to be a computer expert to use it.
Salt Lake City, UT (PRWEB) December 21, 2011
GarbAthletics.com puts creativity in the hands of customers looking for standout custom uniforms. With a new online uniform builder, it is now easier than ever to custom design a professional-looking uniform for a variety of team sports. GarbAthletics.com provides the user-friendly tools for teams to design and customize their own uniforms, and then partners with hundreds of local retail stores throughout North America to create and distribute the team's design. There's even an option to share the team's design on facebook.
"Garb Athletics' uniform builder is so easy to use it practically runs itself. You do not need to be a computer expert to use it." Joseph Snow, Garb Athletics Software Engineer
For example, when building a custom baseball jersey, GarbAthletics.com's uniform builder will prompt you through a series of choices, such as shirt style, with options for: fabric, shirt color, contrast piping and sleeve piping color, stripe options (how many and color), logos, numbers, names, and team extras. GarbAthletics also offers unlimited tackle twill lettering (sewn-on lettering) and unlimited embroidery.
There are literally hundreds of options for custom baseball uniforms, softball, basketball, football and soccer, as well as other team wear such as windbreakers, jackets and hoodies. There are endless possibilities. GarbAthletic.com's uniform builder helps teams create the exact custom uniform they're looking for. They also offer over 40 set jerseys for football and over 30 different popular styles of baseball uniforms to jump start the design process. As if it couldn't get any better, there are no pricing surprises; GarbAthletic.com offers unlimited decorations for one set price—no additional cost or hidden add-ons. The sky's the limit; price no longer dictates team individuality and creativity.
GarbAthletics.com's uniform builder allows teams to upload, download, print, and save their designs. With the uniform builder, teams order and design online and then arrange their purchase locally. GarbAthletics.com works with local businesses for the convenience, great customer service, and peace of mind of their customers. As a bonus, this also helps build the team's local economy.
"Be the sharpest looking team on the field or court and get exactly the uniform you want with GarbAthletics."
GarbAthletics.com, established in 2005, is a supplier of high-performance, custom team uniforms with a turn-around time of 4-6 weeks and works with hundreds of retailers across North America.
# # #