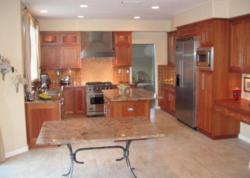 Unlike most in the cabinetry design industry, the same men who build the cabinets at Aurora, install them as well
San Rafael, CA (PRWEB) March 10, 2012
Since 1961, Aurora Cabinets and Countertops Inc., a family-owned business that has proudly offered Bay Area custom cabinets and cabinetry work, is currently featuring free design with the purchase of cabinets.
"Unlike most in the cabinetry design industry, the same men who build the cabinets at Aurora, install them as well. This allows them to know exactly how they were built to fit together," Donna Susmani of Aurora Cabinets and Countertops Inc. said. "We set a high standard for craftsmanship to ensure the custom cabinets will last for years to come, evoking the same appeal originally imagined."
Bay Area cabinetry design company, Aurora Cabinets and Countertops Inc. understands that the key to a perfect cabinet is a seamless installation. With 50 years of industry experience, all of Aurora Cabinets' cabinet makers and installers not only meet but exceed customer expectations. Aurora Cabinets and Countertops Inc. also works with a variety of materials, including wood and plastic laminates. Its team is well versed in getting the job done in a timely fashion without sacrificing quality.
For more information about receiving a free design, or any services or products provided by Aurora Cabinets and Countertops Inc., call 415-213-4789, view the cabinet experts on the web at http://www.auroracabinets.com or visit 30 Mark Drive in San Rafael.
About Aurora Cabinets and Countertops Inc.
Founded in 1961 as a plastic laminate countertop fabrication shop, Aurora Cabinets and Countertops Inc. now provides the Bay Area with custom-built cabinets and granite countertops. Its experienced professionals design, manufacture and install cabinets and countertops in any room of the house while staying on time and on budget. It offers a large selection of cabinets and countertops, from suppliers like Omega Cabinetry, Bellmont Cabinetry and Woodland Cabinetry. It is also known throughout the Bay Area for its cabinetry designs and custom cabinets.