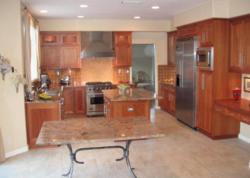 As always, you will also receive free design with your purchase of kitchen cabinets
San Rafael, CA (PRWEB) August 18, 2012
Aurora Cabinets & Countertops Inc., a Bay Area custom cabinet manufacturer, is now providing a variety of exciting deals for customers. Those who mention this advertisement before receiving a quote will receive a free undersink drip tray--no more worrying about leaky plumbing or leaky instant hot water dispensers--when purchasing a complete set of kitchen cabinets.
"As always, you will also receive free design with your purchase of kitchen cabinets," said Donna Susmani of Aurora Cabinets & Countertops Inc.s
In addition, customers who order both cabinets and countertops will receive a free Undermount SS 16 gauge sink, valued at about $500.
"With any project, you benefit from our 51 years of experience, ensuring that your project runs smoothly, on time and on budget," Susmani said.
Aurora Cabinets & Countertops Inc. continuously researches factory-direct manufacturers for quality and value, ensuring that the Bay Area cabinetry design expert offers the best that money can buy with service that cannot be beat. Aurora Cabinets and Countertops Inc. works with a variety of materials, including wood and plastic laminates. Its team is well versed in getting the job done in a timely fashion without sacrificing quality.
For more information about the current promotions, or any services or products provided by Aurora Cabinets & Countertops Inc., call 415-213-4789, view the cabinet experts on the Web at http://www.auroracabinets.com or visit 30 Mark Drive in San Rafael.
About Aurora Cabinets & Countertops Inc.
Founded in 1961 as a plastic laminate countertop fabrication shop, Aurora Cabinets & Countertops Inc. now provides the Bay Area with custom-built cabinets and Bay Area granite countertops. Its experienced professionals design, manufacture and install cabinets and countertops in any room of the house while staying on time and on budget. It offers a large selection of cabinets and countertops, from suppliers like Omega Cabinetry, Bellmont Cabinetry and Woodland Cabinetry. It is also known throughout the Bay Area for its cabinetry designs and custom cabinets.