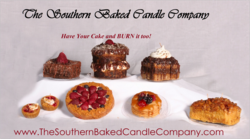 This is such an honor, I feel like I've won my own Oscar!
Columbia, SC (PRWEB) February 20, 2013
Debey Hancock, owner of Southern Baked Candle, is proud to announce the inclusion of her custom candles into the gift bags that will be given away at this year's Academy Awards. Southern Baked Candle will be creating one-of-a-kind products to include in the baskets. Hancock is honored to be featured alongside luxury brands from all over the world.
Hancock got a call, a few weeks back, from the woman who puts together Oscar gift bags for Academy Award nominees. "She told me she was looking for something new and unique and came across my web site; she fell in love with my candles. She took it to the board and then asked if I'd be interested in placing my candles in their gift bags," said Hancock.
The board expressed their desire for wine glass candles, waffle candles with fruit and syrup, cake slice candles, along with some other signature styles for the gift bags. She's making more than fifty of each for the nominees who do not go home with the coveted Academy Award. Hancock added that Denzel Washington, nominated for an Oscar this year, is her favorite actor. Even if he doesn't win, Hancock is excited to have her own consolation prize. "It's been kind of fun thinking, it's possible Denzel could have one of my wine glasses in his living room by next week," she said.
About 2,400 miles east of Hollywood, the Southern Baked Candle Company sits quietly on Devine St. in Columbia, SC. Hancock has spent over ten years perfecting her art, and finally opened the store a year and a half ago. "If you can dream it, we can build it; the more bizarre, the better." Despite the very realistic look and the fragrance, her creations are all wax, "All of our candles smell exactly like what they look like," said Hancock.
Hancock is confident her store is one of the only places that create these kinds of custom candles. Southern Baked Candle can make signature candles based off any customer request, and is especially happy to do so for the Academy Awards. Hancock expressed her excitement, "This is such an honor, I feel like I've won my own Oscar!"
About the Company:
The Southern Baked Candle Company features unique, custom, hand crafted "Bakery" and "Food" candles as well as custom candle gifts, such as custom USC candles, wedding candles, and wax sculpture requests. The Southern Baked Candle Company serves the Columbia SC market and is located at 2718 Devine Street Columbia SC 29205.803-456-3011. Through the success and direction of Master Chandler - Debey Hancock, the company has added a national web site for custom candles and wax sculptures at http://www.southernbakedcandle.com.