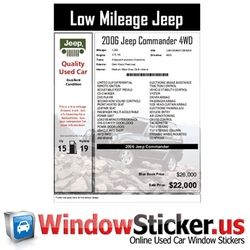 By using the vehicle's VIN to fill in most of the window sticker in advance the end result is a more accurate and more sales worthy tool that will add a professional flare to any car sale.
Cleveland, Ohio (PRWEB) April 16, 2008
The newly-launched Web site WindowSticker.us (http://www.windowsticker.us) provides quick and easy creation of customized automotive window stickers. Using a 3-step process an end-user can create, design, and download a professional-quality window sticker in less than five minutes. Unlike other applications that require a desktop application, WindowSticker.us is an AJAX-enhanced web site that allows intuitive and instant feedback throughout the design process.
A window sticker is a sales tool used by car dealers to provide information about a vehicle for sale that includes the standard equipment, optional equipment, estimated fuel efficiency, and price. Dealers provide this information to allow shoppers to have access to this information without the need for a salesperson to be present.
The main goal for WindowSticker.us is simplicity and clarity. By providing a clean and easy-to-use workflow the end-user has clear direction as to how to proceed with minimal need for instruction. The preview window allows instant feedback to the process of creating the window sticker. Unlike other window sticker solutions, WindowSticker.us provides a real-time sample of the end product.
By harnessing the power of the Vehicle Identification Number (VIN) database provided by Decode This! WindowSticker.us needs only a vehicle's VIN to determine the equipment and options and automatically fill this information. The end-user need only select the options installed on the vehicle, enter the mileage and asking price, and enter any contact information desired to be displayed on the final window sticker. This information is stored and used to produce a high-resolution vector-based PDF that can be immediately downloaded and printed, emailed, or saved locally for future use. Adobe PDFs are an industry standard file format that can be viewed on nearly any PC or Macintosh at no cost.
The end-user can choose from a variety of professional-quality vector-based window sticker templates that present the vehicle data in a variety of ways for several different uses. Several standard dealership equipment sticker designs are available, as well as traditional "For Sale" signs and Buyers Guides. Once a window sticker has been purchased the end-user has the ability to go back and edit the information and to change the template to produce radically different sales tools at no additional cost. Additional templates can are being added over the next several months, and custom dealer-specific templates can be created to match existing marketing materials.
The WindowSticker.us window sticker is designed to appeal to used car dealers and other automobile companies such as auction houses that need to present clear and detailed information to their prospective buyers. Automotive window stickers have been a successful sales tool for the car industry for decades. Most car window sticker or equipment sticker applications require custom software and special paper costing hundreds of dollars. WindowSticker.us window stickers can be printed on a common inkjet or laser printer and only requires a computer with a web browser and Adobe Acrobat reader. Instead of a high up-front cost for software and consumables WindowSticker.us offers the use of inexpensive consumables, individual unit costs, as well as subscription packages that allow dealers to design and print window stickers in bulk at a substantial discount.
Individuals selling their cars "For Sale By Owner" also can benefit from the easy-to-use window sticker web application. This is the first product that allows the general public access to the same sales tools as the local used car lot or auction house. By printing the window sticker and affixing it to the window of their car an individual can increase the likelihood of a fast sale at their desired asking price. Window stickers sell cars day and night by providing all the information a potential buyer needs to know before committing to a purchase.
"I've tried to create a tool that makes creating the car window sticker easy for all levels of users," says site owner Richard Brown. "By using the vehicle's VIN to fill in most of the window sticker in advance the end result is a more accurate and more sales worthy tool that will add a professional flare to any car sale."
Individual window stickers can be purchased online for $3.95 per vehicle, with subscription packages starting at $99.95 for 50 vehicles per month.
The press and auto industry personnel are invited to contact Richard Brown, or visit http://www.windowsticker.us for complimentary window stickers for evaluation and review purposes.
About WindowSticker.us:
WindowSticker.us is a part of the ChronoSafe Media family which includes the popular VIN decoding web site Decode This! (http://www.decodethis.com).
Contact:
Richard Brown, Owner
WindowSticker.us
(440) 628-4167
http://www.windowsticker.us
###