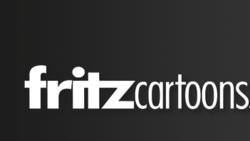 Cartoons are fun to read and easy to look at
San Francisco, CA (Vocus/PRWEB) July 09, 2011
Fritz Cartoons, along with Cartridge World of San Francisco, will be running a series of ads encouraging people to save money and to conserve the planet's resources by reusing ink cartridges for printers. The outdoor ad campaign will use a colorful cartoon to illustrate the importance of the issue and will be shown at the Montgomery Street MUNI and BART Station.
"Cartoons are fun to read and easy to look at," said Fritz Wall of Fritz Cartoons. "If your company has a unique message, a cartoon might be a good way to get people's attention. Cartoons stand out and they have a unique style with lots of character. They tell a story and can engage the reader into thinking about what the cartoon is saying."
Cartridge World has been doing business for the last three years using Fritz Cartoons for custom cartoons in their email marketing, advertisements, posters and banners. For this project, Fritz Cartoons has been producing colorful and comical cartoons that echo the primary vision of Cartridge World to save and protect the planet.
The Cartridge World promotion is being held at the Montgomery Street MUNI and BART Station because millions of people pass through the station every year, making it the perfect venue to promote and advertise a company's services. It's also an excellent place to post advertisements and promote advocacy in environmental causes.
Rex White, owner of two Cartridge World of San Francisco locations, said, "Fritz's work combines art and humor to convey a message in such a unique fashion that your curiosity is piqued enough to actually stop and read it." Cartridge World's BART/MUNI ad campaign utilized Fritz's cartoons because they use art to tell a story that the consumer can readily relate to.
"Cartridge World also uses Fritz's humorous cartoons to convey a marketing message that both grabs the customer's attention and makes them smile. In my mind, using cartoons is a fresh and unique approach to marketing that actually gets results. Does humor sell? It sure does! Visits to http://www.refillsf.com have literally doubled since our BART/MUNI posters were installed."
For more information about Fritz Cartoons, visit them on the web at http://www.fritzcartoons.com/ or call (415) 501-9276.
About Fritz Cartoons
Fritz Cartoons is owned by a cartoonist named Fritz Wall. They provide cartoon services to companies who want to promote themselves, advertise a certain product or service. Fritz Cartoons can supply different types of advertisements or slogans that will not only inform but also entertain.
###