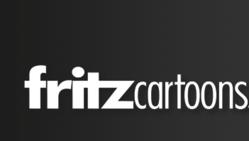 I've hired Fritz Cartoons on multiple occasions to create a customized cartoon for a client
San Francisco, CA (PRWEB) November 17, 2011
The San Francisco-based cartoonist, Fritz Wall, has opened a new online store http://www.fritzcartoons.com. The new website is a one-stop shop to find existing cartoons that are available for download for a good price to use in any type of marketing, such as email marketing, presentations, websites, blogs, direct mail, and newsletters.
The new website has more than 150 cartoons available and more are added every day. Customers can look for the cartoons they need and purchase them by using the site's safe and easy-to-use shopping cart. Digital versions of the cartoons can be purchased for limited use in a 300 dpi print ready format. If a customer can't find the cartoon they are looking for they can also fill out an online contact form to send a request for quote. Fritz himself will respond to the e-mail request in a timely manner and provide a quote for the custom cartoon.
Gil Zeimer, Copywriter/Creative Director at Zeimer's Advertising Shoppe comments, "I've hired Fritz Cartoons on multiple occasions to create a customized cartoon for a client. These have included a cosmetic dentist, a B2B discounted deals company and my own copywriting services. The results were fast, colorful, strategically spot on, and hilarious! Fritz always thinks outside the box and inside my clients' minds. I have no hesitation to recommend him to clients for newsletters and Web visuals. Fritz Cartoons gets two thumbs up every time!"
For more information, contact Fritz Cartoons at (415) 501-9276 or visit http://www.fritzcartoons.com. Fritz is also featured at http://www.rackafracka-fritz.com.
About Fritz Cartoons
Fritz Cartoons is owned by San Francisco-based cartoonist Fritz Wall. Fritz provides a library of cartoons online that can be used in business marketing for blogs, websites, email marketing, and presentations. Fritz also offers to customize a cartoon for customers to better get their message across.
###