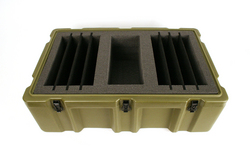 "We are very proud to have the opportunity to partner with Zero, and add our FoamFrame™ design methodology to the Laptop Solution case line." - Norry Liebman, South-Pak
North Salt Lake, UT (PRWEB) April 21, 2010
How do you bulk ship 6 to 12 laptops and accessories and keep them safe during transit? How do minimize shipping costs without compromising on protection? Zero's new Laptop Solutions combines existing Zero military grade Transitainer™ cases with South-Pak's FoamFrame™ interiors to solve these problems.
Unlike traditional laptop shipping cases, the Laptop Solutions allow the case, foam cushioning, and solid partitioning to act as an integrated protection system. The Laptop Solutions compensate for stresses and shocks that are likely (and unlikely!) to occur during shipment and handling. The resulting Laptop Solution package is lighter and stronger than competing products. Resulting shipping cost savings often exceed the cost of the case after just a few shipments.
"We admire the strength, durability, and functionality of Zero's Transitainer™ case shells. We are very proud to have the opportunity to partner with Zero, and add our FoamFrame™ design methodology to the Laptop Solution case line. The real winner here will be the end users of these products," commented Norry Liebman, Principal of South-Pak, inc.
Laptop Solutions are available in 6-unit, 8-unit, 10 unit, and 12-unit configurations, and can be configured with a wide range of custom options. The standard FoamFrame™ interiors can be easily modified for specific laptops, and other equipment that needs to be packaged in these cases.
"We selected South-Pak, Inc.'s FoamFrame™ for our Laptop Solutions because the unique design of the FoamFrame™ securely and efficiently populates multiple laptops and accessories into a condensed space. We are pleased to integrate South-Pak's product offering into our rugged Transitainer™ cases, and look forward to working with South-Pak on future solutions" said Chad Thorne, Vice President of Sales and Marketing.
About Zero Manufacturing:
ZERO Corporation, acquired in June 2008 by Protostar Partners LLC, is comprised of ZERO Manufacturing, Inc. and ZERO Cases (UK) Ltd. ZERO Manufacturing, Inc. (based in North Salt Lake, Utah) is a world-class manufacturer of quality, deep-drawn and fabricated aluminum and molded plastic cases, enclosures and assemblies for the aerospace, industrial, medical, electronics and telecommunications markets.
ZERO Cases (UK) Ltd. (based in Birmingham, United Kingdom) is strategically located in the center of the United Kingdom. ZERO Cases UK produces a wide range of deep-drawn aluminum cases and non-case applications that meet the unique demands of the European market. WEBSITE: http://www.zerocases.com
About South-Pak, Inc.:
South-Pak, Inc. is a Norcross, GA based company specializing in the design, engineering and manufacturing of custom cases and custom shipping solutions for industry and government customers. CONTACT E-Mail: sales (at) south-pak (dot) com; WEBSITE: http://www.south-pak.com
###