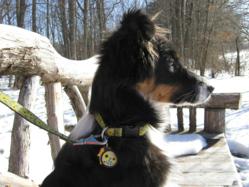 Asheville, NC (PRWEB) April 10, 2013
In cooperation with Lupine Pet, Asheville-based custom pet ID tags company Dog Tag Art now offers custom dog tags to match Lupine collars, leashes, and retractable leads.
"We are very pleased to be partnering with Dog Tag Art and excited that we can now give customers the option to purchase an ID tag that matches our products and patterns," said Lupine president Dave Jensen.
Leashes, collars, and leads by Lupine can be purchased on Dog Tag Art's website, along with the matching dog tags for pets. Patterns are created to suit every pet personality, with designs ranging from flowers and hearts to paw prints and bones for looks that are both functional and fashionable.
Lupine has been building pet accessories and training products in New Hampshire since 1990. All products are machine washable and covered by an "Even If Chewed" guarantee – no receipt required. Lupine's products are inspired by climbing and hiking gear, making them durable and long-lasting. All accessories are fully adjustable and are available in different lengths and widths to fit pets of every size.
The partnership between the two companies was a natural fit, since both are manufactured in the U.S. and focused on sustainable practices. Dog Tag Art's custom dog tags are made using 100% recycled steel core, while Lupine's "Even If Chewed" guarantee ensures products are built to last a lifetime.
Dog Tag Art and Lupine plan to release new patterns for accessories and dog tags for pets four times a year. Retired Lupine patterns will continue to be sold through Dog Tag Art's web site.
About Dog Tag Art: Established in 2008, Dog Tag Art is the original place for personalized pet ID tags that allow pet owners to upload artwork or photography to create custom dog tags. To see all the tags and matching Lupine products, visit Dog Tag Art's Lupine patterned tags.