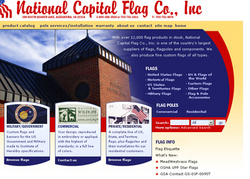 Since our establishment in 1962, National Capital Flag Co., Inc. has expanded to occupy more than 15,000 square feet of light industrial, office, and retail space
Alexandria, VA (PRWEB) April 30, 2009
Custom flags manufacturer, National Capital Flag, is excited to celebrate its 47th anniversary as a leading manufacturer of custom embroidered and appliqué flags and banners. National Capital Flag, or NCF, offers government and military flags for sale and is an approved manufacturer for the Department of Heraldry. In addition to government and military flags, NCF provides custom flags and banners for commercial customers as well as private use, and with this year comes another milestone for the flag manufacturer.
Today, National Capital Flag carries one of the country's largest stocks of US, state, and international flags. United Nations Members flags are kept in stock for both national and international customers, and military flags for sale include all US branches. In addition to US government agencies, NCF provides flags to commercial customers and individuals ranging from appliqué flags to custom silkscreen flags and banners for conventions, exhibits, and trade shows.
"Since our establishment in 1962, National Capital Flag Co., Inc. has expanded to occupy more than 15,000 square feet of light industrial, office, and retail space," says Albert E. Ulmer, Jr. President of National Capital Flag. "The depth of our in-house stock is unrivaled, and after 47 years in business, we can say with confidence, no matter what you need, we can get it for you."
Ulmer came to National Capital Flag as a part time employee while working as a Fairfax County Fireman. As work at NCF increased, he joined the company as a full time employee, and over the years, he has assumed management of the company and then purchased NCF from its previous owner. Ulmer's business model is based on quality flags with a special emphasis on customer service.
"We may not be the cheapest custom flags manufacturer, but we do produce the best flags available in the United States," says Ulmer. "In addition to providing the highest quality flags, we are always here for our customers."
Beyond custom flags and banners, National Capital Flag carries, installs, and repairs flagpoles for commercial and residential customers. NCF rents both flags and poles for indoor use, and can ship products anywhere in the world.
For more information or to purchase government and military flags for sale, visit the National Capital Flag website.
About National Capital Flag, Co., Inc.:
National Capital Flag was established in 1962 in Alexandria, Virginia and is a leading provider of government, military, and commercial flags, as well as flags for private use. NCF is approved by the Institute of Heraldry, and makes military flags and guidons according to Heraldry specifications. In addition to flags, NCF provides flagpoles, as well as rental items. For more information, visit NationalCapitalFlag.com.
###