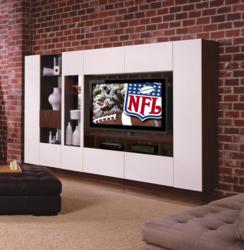 ...a couple customers upgraded their TVs for super bowl parties-- and needed an appropriately modern entertainment center to fill out the experience.
Passaic, NJ (PRWEB) September 12, 2012
Contempo Space, a custom furniture company based in Passaic, NJ, reminds savvy customers that with cooler autumn weather upon us and the holidays right around the corner, the best purchasing decisions are not limited to impulse buys.
Entertainment centers and other furniture are made to order, putting Contempo Space customers in a unique position to take advantage of unlimited flexibility and choice.
"It's usually easy to order a big screen television online and have it shipped within a few days," remarks Lynn Hoya, a customer service representative, "or find a Black Friday sale locally and bring it home the same day."
Where to Put the New TV?
"Last year we had a lot of last minute shoppers who had new TVs for football season or holiday gifts-- a couple customers upgraded their TVs especially for super bowl parties-- and needed an appropriately modern entertainment center to fill out the experience."
Consumers should keep in mind that major furniture purchases in general take longer to complete than electronics purchases. One common reason is that furniture is usually too large to be shipped to residential addresses by UPS or FedEx. The exception to this is RTA (ready to assemble) furniture, which is designed more for budget than for longevity in most cases.
Hoya recalls that some people hadn't factored manufacturing and delivery time into their plans last year.
"Customers would see that our wall units are available in a couple hundred finish combinations and come to the showroom or order samples. They'd decide on the colors and configurations, then ask for it to be delivered in a few days. With furniture that gets fully customized the way ours does, we don't have one of each sitting in the back.
"Every entertainment center is one of a kind. We've been making these for a long time, and we can get them out pretty quickly, but this is the kind of furniture that still looks as good years down the road as it does on day one. It takes a certain amount of time to make that happen."
About Contempo Space
Contempo Space has been specializing in custom home furnishings for 30 years, offering modern lines of bedroom furniture, living room furniture and more. Design consultants and craftsmen work with customers to create the perfect piece for any space, hand-crafted to meet the customer's specific needs.
To learn more about Contempo Space, the one-of-a-kind company that still puts quality first and still designs and manufactures furniture locally at its Passaic, NJ factory showroom:
Visit http://www.contempospace.com, call 888-266-1280 or come on up to the showroom on Canal Street @ Passaic Street, Passaic, NJ