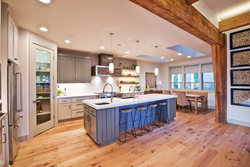 Tuscany Homes in Clark County WA won multiple awards at the 2015 Parade of Homes. Including Best of Show!
Clark County WA (PRWEB) December 07, 2015
Tuscany Homes is a home builder in Clark County WA that recently received multiple awards for the quality and craftsmanship of the home they entered in the NW Natural Parade of Homes. The awards ceremony, titled An Evening of Excellence, took place at the Heathman Lodge, presented by ProBuild.
During the ceremony, Tuscany Homes received three Industry Awards; voted on by industry professionals who attended VIP Night on September 3rd. The three awards included "Best Landscaping," "Best Interior," and "Best of Show."
In the next round of awards known as the "People's Choice Awards," Tuscany Homes' "Sylvan Rest" won "Best Landscaping," "Best Interior," and "Best of Show" a second time.
Tuscany Homes says these awards are a testament to the great work of every member of their team. They say "Sylvan Rest" and the awards it won highlight the company's focus on quality construction and thoughtful design.
"Our designers were on site every day right alongside the construction team," said Tari Burback of Hasson Realty, a member of the Tuscany team.
Tuscany describes their award winning home, "Sylvan Rest", as a forest sanctum. They call it a haven to come home to. Calming nuances of nature, they say, are infused into the home, from sturdy beams to delicate textures and subtle features.
"It's the type of home that defines the Tuscany Homes brand and helps people understand our solid reputation as a Pacific Northwest builder."
BIA President Jack Harroun says the Evening of Excellence and the awards handed out there are done in an effort to showcase the quality and craftsmanship carried about by those in the building industry throughout Clark County. The awards given out at the Evening of Excellence covered all the Building Industry Association events in 2015. Those events included the NW Natural Parade of Homes, the Columbia Credit Union Remodeled Homes Tour, and the New Homes Tour.
Ron Veach is the owner of Tuscany Homes. Ron works with his team of contractors, designers, and real estate agents to create custom homes unlike anyone else in the region. For more information, photos, videos, or to contact Tuscany Homes, please visit their website.