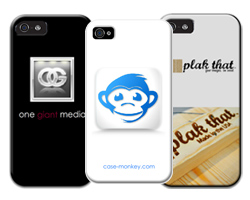 The corporate programs are great because we can hand-craft a high quality product for discount prices for companies looking to protect their investments in company phones or tablets while marketing at the same time
Del Mar, CA (PRWEB) January 23, 2013
Case-Monkey.com has recently released a complete corporate program which provides custom Smartphone and iPhone cases for businesses. Case-Monkey is helping companies create their own branded Smartphone cases to distribute to their employees and anyone affiliated with the company.
For companies that already provide Smartphones for their employees, this is the perfect way to protect the phone investment and at the same time reinforce company loyalty. Employees can use the provided phone with a professional, branded case on it.
Branded phone cases also look great specifically for a corporation's sales team. iPhone cases for businesses are a great way for those sales people that are in meetings all day to represent their company in a new, modern and different way.
Case-Monkey.com has specifically designed a corporate program for businesses to easily offer these branded cases to their employees. Corporations can select from a few options; the first, to have Case-Monkey designers hand design a case with the company's logo, colors, and tagline. Second, corporations can set up a landing page where employees can go to the site and start with the company's logo on one section of the case. They can edit the other part of the case by adding their name, pictures, text, etc. It's a great way for companies to allow employees to personalize their case and show the company brand at the same time.
In general, Case-Monkey.com has come up with a great way to expand a brand, protect company issued Smartphones, and encourage company loyalty.
To find out more information about the corporate program, contact Case-Monkey.com directly by email at contact@case-monkey.com or phone at 858-461-4427.