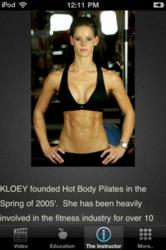 By combining intense video workouts and the mobile platform, users can get a great workout no matter where they are at.
Burbank, CA (PRWEB) January 16, 2013
981 Media and Hot Body Pilates are pleased to announce the latest version of their smart phone app, KLOEY Pilates Volume I. It is an exercise app complete with advice and information regarding the proper practice of Pilates as well as four different exercise videos that help users break a sweat even when they're out and about. "Outstanding abdominal workout," says one user, "Highly recommend it to anyone looking for a stronger core."
To download the app for IOS visit, http://itunes.apple.com/us/app/pilates-by-kloey-volume-i/id476268227?mt=8
To download the app for Android devices visit, https://play.google.com/store/apps/details?id=com.hotbodypilates.droidnv1&hl=en
Pilates is a form of physical activity that allows stretching, strengthening, balancing, and toning of core muscles at the deepest levels. It does this without adding bulk or straining joints the way many other forms of exercise are prone to. In many cases, it can heal old injuries and prevent new ones. This makes Pilates great to use in conjunction with other exercise regimens or athletic activity.
The app is unique in that its programs and information are excellent for those at all stages of Pilates training. It can be used by everyone from novices that are just getting started on Pilates all the way to those who are at an advanced training level. The app addresses several key topics, such as the health benefits of Pilates, how it effects weight loss, how it compares to yoga, and its stress relief properties. It also discusses the benefits in relation to children, as well as the ways in which Pilates workouts should be modified for those who are pregnant.
The app is compatible with any iPhone, iPod Touch, or iPad that is running iOS 3.1.3 or later and currently holds a 5-star rating on the iTunes app store. "This app is awesome," says another user, "keep them coming please." Hot Body Pilates offers a DVD that covers the essential aspects of Pilates as a fitness program and is a great compliment to the app.
Hot Body Pilates: Hot Body Pilates is a Pilates studio located in downtown San Diego. Staffed by a group of certified and highly qualified instructors that know exactly how to take their clients' fitness to the next level. They specialize in helping their clients' bodies the best they can be, and offer a complimentary session to all first-time clients. The company offers a private Certification Program as well as a group one. Their offerings can be viewed at hotbodypilates.com. To inquire about their Pilates programs or set up a complimentary first-time session, get in touch via text at 858-220-1415 or email at kloey(at)hotbodypilates(dot)com.
About 981 Media:
981 Media serves companies who want the very best marketing tools around and specializes in using multiple forms of media to promote businesses. As a website design company, they offer innovative websites, corporate video production, corporate photography, mobile apps, and much more. They chose their name for its ability to represent what they give to their clients. To find out more about their web design service, click here. The numbers 9, 8, and 1 mean completion, fulfillment, abundance, power, creativity, and confidence. 9 is also the square root of 81, and together they symbolize synergy and maximized outcomes. To learn more, give them a call at 877-981-6334 or get in touch at http://981media.com.