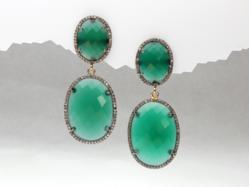 San Francisco, CA (PRWEB) June 24, 2013
Union Street Goldsmith is pleased to announce they are now carrying new gemstones after attending the JCK Las Vegas Jewelry show.
They have new selections of briolette (elongated) and drop shaped gemstones to make new designs. These new stones include: turquoise, hessonite garnet, chrysoprase, carnelian, and many more.
In addition, Union Street features a new group of dramatic dangle earrings, consisting of opal, sapphire and champagne diamonds.
With 40 years in the trade, their shop, with its big Dutch doors and friendly, knowledgeable staff, is welcoming and unpretentious. The staff consists of design consultants and six GIA graduate gemologists who work with a team of highly skilled master goldsmiths. They offer appraisal services and jewelry repairs and are happy to clean gold and platinum jewelry anytime.
Owners Glenda Queen and Terry Brumbaugh have a unique eye for creating unfussy, fine jewelry designs that go as well with jeans as they do with black tie. The shop also carries collections by other designers from around the world including Kurtulan, Gurhan, Lombardi, Bez Ambar, Renaissance Platinum, and Precision set.
For more information about distinctive Union Street pieces, give them a call at 415-658-9315 and ask about a free jewelry appraisal.
About the company:
Glenda Queen, with a background in arts and crafts, entered the jewelry business in 1964. After 11 years making jewelry at McLeans in Sausalito, she and her present partner Terry Brumbaugh, opened Union Street Goldsmith. Glenda chose a neighborhood she hoped would be a comfortable setting for her craftsmen as well as her clients and it worked. Terry Brumbaugh, raised in the jewelry business, later became a Gemologist. After an extensive period of travel, he joined with Glenda to head up the Union Street Goldsmith sales staff. Terry has a rare gift for his memory of client's collections, enabling him to design new pieces to fit his clients' special tastes and their collections. An excellent sense of style and fashion endows Terry with the ability to give valuable guidance to his clients in their jewelry selection, helping each one to create an overall special look within their collection. Union Street Goldsmith is the ideal place to find custom jewelry, engagement rings or diamond rings. Please visit their website for more information and a preview of their collection, http://www.unionstreetgoldsmith.com.