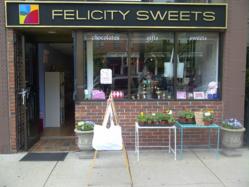 I love Boston—and Felicity Sweets is the perfect boutique gift shop to carry and represent the London Manori collection
Los Angeles, CA (PRWEB) November 05, 2011
East Coast demand for London Manori jewelry has risen sharply since the Los Angeles luxury jewelry maker became available in Boston last spring. Felicity Sweets, the celebrated purveyor of fine chocolates, candies and unique gifts located at 579 Tremont Street in Boston, has just announced it will carry London Manori's latest line of fashionable men's and women's jewelry.
"London Manori jewelry is a natural addition to our collection of special gifts," said Sarah Horton, owner of Felicity Sweets. "Boston shoppers now have even more reason to enjoy shopping at Felicity Sweets, especially during the upcoming holiday season, as they search for something unique for those special loved ones."
The Los Angeles custom jewelry designer introduced their 2011 line of sterling silver and exotic raw stones earlier this year at Local Collection Boston, Flock Boston and Pure Barre. The high-end jeweler's uniquely ornate designs with intricate details, including their fashionable stackable rings and gorgeous 18kt gold pave diamond beauties, have been very well received by Bostonians.
"I love Boston—and Felicity Sweets is the perfect boutique gift shop to carry and represent the London Manori collection," said Aneela Manori, owner of London Manori. "It's very exciting that our jewelry is becoming popular on the East Coast.'
Los Angeles has been enamored of the jewelry designs of London Manori since November, 2008. The reaction has been enthusiastic; in fact, the innovative designs have become popular with many celebrities—including Kim Kardashian, Whitney Port (star of the reality TV show "The City") and rapper Romeo—who are often spotted and photographed wearing London Manori pieces.
For more information about the collection at Felicity Sweets, call (617) 262-0707 or visit the store at 579 Tremont Street (between Union Park and Upton Street) in Boston.
To contact or make purchases directly from London Manori, call (213)-261-8876, go to http://www.londonmanori.com, or visit one of the stores that carry their jewelry. For a list of retail locations that carry their jewelry, please visit londonmanori.com/stores.html.
About London Manori
London Manori is a Los Angeles custom jewelry designer and manufacturer. By combining unique designs and state-of-the-art techniques, they create an exceptional collection of fine jewelry with unmatched quality and precision. They design and sell a wide assortment of necklaces, rings, charms, bracelets, and jeweled leaves.
###