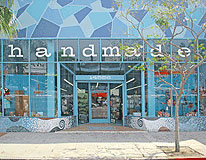 The Handmade Galleries is a Bit like Heaven.
Los Angeles, CA (PRWEB) December 20, 2011
London Manori jewelry has been gaining popularity on both the West Coast and East Coast since the Los Angeles luxury jewelry maker became available in 2008. Handmade Galleries LA, considered to be one of the very best gift stores in Los Angeles, is the latest retailer to carry London Manori's line of unique and enduring men's and women's jewelry.
Located at 14556 Ventura Boulevard in Sherman Oaks, Handmade Galleries LA promises a unique shopping experience. Split up into mini galleries featuring local designers, the real beauty of this place is that there is so much variety that almost everyone can find something appealing.
"The Handmade Galleries is a bit like Heaven," said Aneela Manori, owner of London Manori. "The staff is warm, and there is a little bit of everything under one roof. It is a perfect place to showcase my creative jewelry pieces. I am sure holiday shoppers are going to appreciate our designs and snatch them up for their loved ones."
The Los Angeles custom jewelry designer is known for their uniquely ornate designs with intricate details, including their fashionable stackable rings and gorgeous 18kt gold pave diamond beauties, which have been very well received by Bostonians.
Los Angeles has been enamored of the jewelry designs of London Manori since November, 2008. The reaction has been enthusiastic; in fact, the innovative designs have become popular with many celebrities-including Kim Kardashian, Michelle Money, and performer Lupe Fiasco—who are often spotted and photographed wearing London Manori pieces.
London Manori has made a big splash on the East Coast, introducing their 2011 line of sterling silver and exotic raw stones this year at Local Collection Boston, Flock Boston, Pure Barre, Felicity Sweets, and ABRANO Silver in the Boston Area.
For more information about the collection at Handmade Galleries LA, call (818) 382-3444, go to handmadegalleriesla.com or visit the store in person at 14556 Ventura Boulevard in Sherman Oaks, California.
To contact or make purchases directly from London Manori, call (213)-261-8876, go to http://www.londonmanori.com, or visit one of the stores that carry their jewelry. For a list of retail locations that carry their jewelry, please visit londonmanori.com/stores.html.
About London Manori
London Manori is a Los Angeles custom jewelry designer and manufacturer. By combining unique designs and state-of-the-art techniques, they create an exceptional collection of fine jewelry with unmatched quality and precision. They design and sell a wide assortment of necklaces, rings, charms, bracelets, and jeweled leaves.
# # #