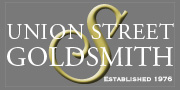 This certification not only reflects our use of recycled precious metals in our products, it demonstrates Hoover & Strong's commitment to environmentally responsible manufacturing
San Francisco, CA (Vocus/PRWEB) May 24, 2011
Union Street Goldsmith uses 100 percent recycled metal from Hoover & Strong, a certified green company by the SCS.
The certification allows Hoover & Strong to continue its commitment to responsible sourcing of precious metals by incorporating reclaimed jewelry, coins and other scrap material into its Harmony Metals products.
"Hoover & Strong is proud to be the first refiner and precious metals manufacturer to become SCS certified with our Harmony Metals brand of mill products, findings, rings, mountings, semi-mounts and finished jewelry," said Torry Hoover, President of Hoover & Strong.
Mining for precious metals has negative effects on the environment. Mining is a very dirty business and the production of one gold ring will generate five tons of environmental waste, which contaminates water and lands and endangers the health and lives of humans and animals.
The precious metals in the final Harmony metal products, as audited and certified by the SCS, are 100 percent from recycled sources. Union Street Goldsmith uses recycled metals in all of its jewelry production, most of which is handmade in the store.
At Hoover & Strong all precious metals are recycled from the Earth's existing metal supply, which means the company does not buy any metals from mining companies. Over half of the metal supply comes entirely from scrap metal purchased from jewelers and the remainder of the supply comes from other refineries that also recycle scrap metal.
"This certification not only reflects our use of recycled precious metals in our products, it demonstrates Hoover & Strong's commitment to environmentally responsible manufacturing," said Hoover.
For more information about Union Street Goldsmith, call (415) 658-9315, view their website at: http://www.unionstreetgoldsmith.com, or visit their store located at 1909 Union Street in San Francisco.
About Union Street Goldsmith
Union Street Goldsmith is a San Francisco custom jewelry store that specializes in engagement rings, diamond rings, wedding bands, 22 kt gold, platinum, pearl necklaces, and jewelry repair. Glenda Queen and Terry Brumbaugh founded Union Street Goldsmith in the Marina District of San Francisco in 1976. They have been jewelers so long that they are now creating engagement rings and wedding bands for the children of couples whose rings they made decades ago.
###