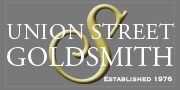 As a San Francisco native, I'm ashamed to admit that last year was my first time at the Union Street Festival
San Francisco, CA (Vocus/PRWEB) May 25, 2011
Union Street Goldsmith, located in San Francisco, will be open during the Union Street Festival on Saturday June 4 and Sunday June 5. The festival runs from 10 a.m. to 6 p.m and Union Street Goldsmith will be open on Saturday from 11 a.m. to 5:45 p.m. and Sunday from noon to 4:45 p.m.
The Union Street Festival is an annual San Francisco Eco-Urban Festival where families and friends can participate in arts and crafts activities, eat gourmet food, witness live entertainment and stop by and browse beautiful jewelry pieces at Union Street Goldsmith.
"As a San Francisco native, I'm ashamed to admit that last year was my first time at the Union Street Festival," said a satisfied Union Street Goldsmith customer. "So far this year, I've attended the Cherry Blossom Festival, Asian Heritage Festival and Carnival, and without a doubt the USF is my favorite."
Union Street Goldsmith is celebrating its 35th year anniversary and the Union Street Festival comes along at the perfect time to celebrate it. People attending the event can enjoy 25 gourmet food booths just in front of the store. Aside from great foods, the festival will also be hosting 50 arts and crafts booths, a cooking demo, and fun activities for children. This is also a great time to visit the store to see its beautiful jewelry pieces in its 50% off case. As Union Street Goldsmith opens during the festival, people will not only be there to observe the event but also to share in this celebration with the store for their 35th year in business.
For more information, call 415-658-9315 or visit http://www.unionstreetgoldsmith.com.
About Union Street Goldsmith
Union Street Goldsmith is a custom jewelry store located in the Marina, San Francisco. Union Street Goldsmith specializes in, engagement ring, diamond ring, wedding bands, 22Kt gold, platinum, pearl necklace and jewelry repair.
# # #