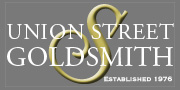 It's already an emotional situation to have your jewelry stolen or lost and you don't want to then find out that you aren't covered
San Francisco, CA (Vocus/PRWEB) June 30, 2011
With the rise of precious metal and diamond prices, many people are leaving their custom jewelry severely underinsured. Union Street Goldsmith located in San Francisco announces they now are offering an appraisal and ways to properly insure jewelry. Today, platinum and gold values are near an all-time high, with prices ranging from $1693 for platinum and $1,540 for gold. Diamond prices have also risen exponentially in the last five years, so much so that many owners are surprised at the current value of their prized possession. With proper insurance, any lost or damaged stone can be replaced without spending a lot of money or settling for something of a lesser value.
Union Street Goldsmith recently had a customer come in for an insurance replacement on a broken diamond. The appraisal of the diamond had not been updated in four years, so the customer must decide to have the insurance replace the diamond at the same value it was four years ago, which would be about a karat smaller than the original, or replace it for thousands of dollars out of their own pocket.
"I do a lot of insurance replacements, and people are underinsured right now. Diamonds and precious metals have sky rocketed. It's already an emotional situation to have your jewelry stolen or lost and you don't want to then find out that you aren't covered," Says Terry Brumbaugh, Senior G.G. at Union Street Goldsmith.
Union Street Goldsmith offer appraisal services by a GIA certified gemologist. They offer insurance appraisals, insurance appraisal updates, verbal appraisals and estate appraisals. Clients can sit and wait during the appraisals or leave the pieces and come back when the service is finished. You must have an appointment for all of these services. Clients are encouraged to bring any type of certification with their jewelry as it can sometimes affect the value. They also have a knowledgeable staff of six GIA geologists including the senior G.G with 40 years of experience to answer all of your concerns.
For more information about Union Street Goldsmith, call (415) 658-9315, view their website at: http://www.unionstreetgoldsmith.com, or visit their store located at 1909 Union Street in San Francisco.
About Union Street Goldsmith
Union Street Goldsmith is a San Francisco custom jewelry store that specializes in engagement rings, diamond rings, wedding bands, 22kt gold, platinum, pearl necklaces, and jewelry repair. Glenda Queen and Terry Brumbaugh founded Union Street Goldsmith in the Marina District of San Francisco in 1976. They have been jewelers for so long that they are now creating engagement rings and wedding bands for the children of couples whose rings they made decades ago.
###