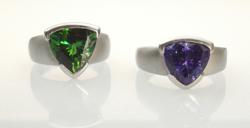 Our cases are bursting with beautiful jewelry and we're running out of room
San Francisco, CA (PRWEB) July 24, 2011
From now until Aug. 15, Union Street Goldsmith San Francisco custom jewelry, is having a 50 percent off sale on selected jewelry.
"Our cases are bursting with beautiful jewelry and we're running out of room," said Glenda Queen of Union Street Goldsmith. "Also, we know that people are really looking for great deals these days."
Union Street Goldsmith San Francisco diamond rings also has a selection of fine handmade pieces that are on sale at 50 percent off along with its discontinued items on other designers and selected pearl and bead strands. Items on sale run the gamut of styles and price ranges. A handmade platinum tanzanite ring that is originally priced at $8,975 is now on sale for $4,488 and yellow tourmaline dangle earrings that features a regular retail price of $275 is now selling for $138. This promotion also features stacking rings, pave set white and yellow diamonds and men's jewelry. The store has a handmade men's18 karat yellow gold ring with a cabochon citrine, originally priced at $3,830 features a sale price of $1,915. There is also a 50 percent discount on Union Street Goldsmith's rainbow sapphire collection, as well as on some of the store's large selection of fresh water pearl strands, and gemstone bead necklaces including Aquamarine, Amethyst, Tourmaline, Moonstone, Emerald, and Peruvian Opal.
For more information about Union Street Goldsmith, call (415) 658-9315, view their website at: http://www.unionstreetgoldsmith.com, or visit their store located at 1909 Union Street in San Francisco.
About Union Street Goldsmith
Union Street Goldsmith San Francisco engagement rings is a custom jewelry store that specializes in, diamond rings, wedding bands, 22 karat gold, platinum, pearl necklaces, and jewelry repair. Glenda Queen and Terry Brumbaugh founded Union Street Goldsmith in the Marina District of San Francisco in 1976. They have been jewelers so long that they are now creating engagement rings and wedding bands for the children of couples whose rings they made decades ago.
# # #